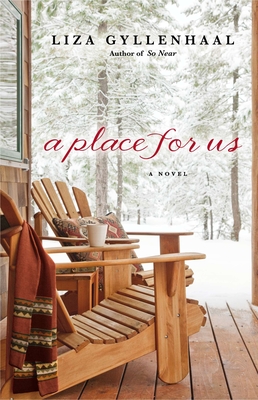 A Place for Us
Paperback

* Individual store prices may vary.
Description
Liza Gyllenhaal is "a gifted new writer"* who's captivated readers with her talent for "plumb[ing] the complexity of human emotions."** Now she delivers a piercing new novel about the secrets and lies that could shatter a close-knit family…

Brook Bostock has led a privileged life. The daughter of an extremely wealthy and prominent family, she married the man of her dreams and is raising two deeply loved children. But her happy home is shattered when a neighborhood teenager is assaulted during a night of drinking with the Bostocks' son and his prep school friends.

The scandal receives national attention—not only because of Brook's family name, but because of the lawsuit looming against Brook and her husband, Michael, that alleges they are responsible for what went on in their house. Suddenly the small Massachusetts town they call home seems to be turning against them, revealing the simmering jealousies and resentments that have been lurking under the surface all along.

With their once-perfect family in danger of falling apart, Brook and Michael must find a way to get through this together—or risk losing everything they love…  

*Ben Sherwood, author of Charlie St. Cloud
**Katherine Davis, author of A Slender Thread
Praise For A Place for Us…
Praise for the novels of Liza Gyllenhaal

"With sensitivity and compassion, she creates characters that will pull at your heart…A truly believable and compelling story."—Katherine Davis, author of A Slender Thread

"A bighearted debut." —The Miami Herald

"Gripping and deeply perceptive."—Ben Sherwood, author of Charlie St. Cloud  
Berkley, 9780451239235, 336pp.
Publication Date: March 5, 2013
About the Author
Liza Gyllenhaal is the author of Local Knowledge and So Near. She and her husband divide their time between New York City and the Berkshire Hills in Massachusetts. For more information, please visit her website: www.lizagyllenhaal.com
Do you think that a state law — such as the Social Host Liability statute — should be able to dictate what you can and cannot do in your own home?
Do you think it's ever right to withhold something about your children from your spouse?
Michael's mother turned his father into a "plastic saint" after his death. Do you believe that "you should never speak ill of the dead?"
To what degree do you think Brook and Michael were responsible for what went on under their roof when they weren't there to supervise?
Do you think Troy responded appropriately to what happened to Phoebe?
Brook says her marriage works because she's rich and Michael is good-looking. Does your relationship rest on the same kind of implicit principle?
Michael refused to share his own boyhood problems with Liam. Do you think children have a right to know about their parents' pasts?
Troy tries to convince Phoebe that it's okay to lie about who assaulted her by saying: "Don't forget that the Bostocks' lawyer felt it was perfectly okay to claim you had sex with Liam… You sticking to your story is nothing compared to that." Do you agree with Troy?
Phoebe spent a lot of time fantasizing about Liam — before and after they became close. Do you think that's normal behavior of a 15-year-old girl?
Who do you think is the best parent in the novel — and why?
Brook tends to handle bad situations by putting on a "happy face" and "pretending everything's great." Do you have similar coping mechanisms?
or
Not Currently Available for Direct Purchase