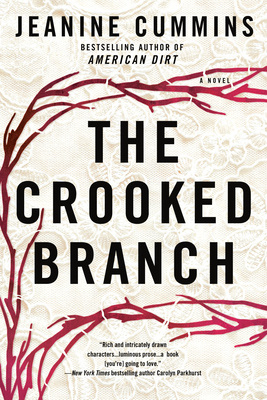 The Crooked Branch (Paperback)
A Novel
Berkley, 9780451239242, 400pp.
Publication Date: March 5, 2013
* Individual store prices may vary.
Description
From the national bestselling and highly acclaimed author of The Outside Boy comes the deeply moving story of two mothers—witty, self-deprecating Majella, who is shocked by her entry into motherhood in modern-day New York, and her ancestor, tough and terrified Ginny Doyle, whose battles are more fundamental: she must keep her young family alive during Ireland's Great Famine.

After the birth of her daughter Emma, the usually resilient Majella finds herself feeling isolated and exhausted. Then, at her childhood home in Queens, Majella discovers the diary of her maternal ancestor Ginny—and is shocked to read a story of murder in her family history.

With the famine upon her, Ginny Doyle fled from Ireland to America, but not all of her family made it. What happened during those harrowing years, and why does Ginny call herself a killer? Is Majella genetically fated to be a bad mother, despite the fierce tenderness she feels for her baby? Determined to uncover the truth of her heritage and her own identity, Majella sets out to explore Ginny's past—and discovers surprising truths about her family and ultimately, herself.
About the Author
Jeanine Cummins is the bestselling author of the groundbreaking memoir A Rip in Heaven and the award-winning novel The Outside Boy. She worked in the publishing industry for ten years before becoming a full-time writer. She was born in Spain, and has lived in California, Maryland, Belfast, and New York City, where she remains now with her Irish husband and growing family. The Crooked Branch is her second novel.
Praise For The Crooked Branch: A Novel…
"Even before you come to care about Jeanine Cummins' rich and intricately drawn characters, before you become enmeshed in her skillfully tangled plot lines about the hard and wondrous task of mothering children in times both catastrophic and ordinary…Before any of that, this is what you have to look forward to: the first page, Ms. Cummins' luminous prose, and that feeling we're all hoping to find when we sit down to read: 'This is it—a book I'm going to love.'"—Carolyn Parkhurst, author of
The Dogs of Babel
and
The Nobodies Album

"The Crooked Branch explores motherhood, holding onto sanity as life adjusts with a new baby, tilling into that always rich ground of mothers and daughters. Beginning in the famine of Ireland and ending in present-day New York, the story gathers momentum and weight as it unfolds, like watching a freight train thunder along the rails filled with the priceless things of life. As heartbreaking as it is heartening, the story of mothers and what they will do for their babies, touches all the tender places with exquisite timing. Jeanine Cummins is such a good writer. Can't wait to read what she writes next!"—Jo-Ann Mapson, author of Solomon's Oak and Finding Casey
"What an entertaining and moving novel! Though I've long known my own ancestors left Ireland because of the devastating potato famine, I never knew much about the history until now. Cummins begins with the utterly relatable Majella, a witty New Yorker struggling with new motherhood and its secret isolation; and sweeps us across the ocean and through time to Ginny, a desperate Irish mother doing her best to support her family. Cummins weaves an exploration of the fierce, primal love of motherhood that connects us all through generations."—Margaret Dilloway, author of How to Be an American Housewife
"Jeanine Cummins knows that there are stories beneath the stories, and she uses this brilliant knowing to weave a tale that is lyrical, emotional and often funny. This extraordinary novel reminds us how motherhood can make us feel as though we are coming undone while also being remade. Majella and Ginny navigate motherhood with a fierce love that propels the story forward with intense strength. Brilliant, vulnerable and intense, The Crooked Branch pierced my heart and paused my breath."—Patti Callahan Henry, author of Coming Up for Air and Driftwood Summer
"Exploring the effect of a secret from the past on a woman who is truly on the edge—of motherhood, of her future, of sanity, of happiness—Jeanine Cummins has written a story that truly resonates. Insightful, suspenseful, and sometimes bitingly funny, with characters the reader will think about for weeks, this bittersweet novel is emotional and immensely satisfying."—Simone St. James, author of An Inquiry into Love and Death
 "The Crooked Branch is a haunting tale of motherhood and the ways in which it can ravage—and resurrect. Cummins's vivid prose and compelling story are burned in my heart."—Kelly O'Connor McNees, author of The Lost Summer of Louisa May Alcott and In Need of a Good Wife
 "The Crooked Branch is a gorgeous, sweeping novel, equal parts harrowing and hilarious, that grips you from the first page and keeps you in its thrall. Two wildly different stories—a new mother in present-day Queens, a woman struggling to survive and feed her children during the Irish famine—are beautifully woven together, bound by a ferocious mother's love that echoes across generations."—Carolyn Turgeon, author of Godmother
At the beginning of the book, Majella's relationship with her mother is a source of frustration, rather than a comfort.Why is Majella angry with her mother?Is her anger justifiable, or is her attitude toward her mom unfair?Is theirs is a typical, modern mother-daughter relationship?Why or why not?What could Majella do to improve their relationship?
Majella's labor is long and difficult, and results in her giving birth to Emma by c-section.Do these factors affect how she adjusts to motherhood?Is her transition into motherhood a particularly bumpy one, or is it fairly normal?Would you describe her as having postpartum depression?
Majella eavesdrops on her neighbors using her baby monitor.Is this an unethical behavior, either immediately or eventually?If so, when does it cross the line?
Food plays an important role in Majella's life, and that role changes dramatically during her postpartum experience.What causes the shift – is it her new lifestyle, boredom, depression?Or is she just hungrier than normal because she's breastfeeding?Are these kinds of significant personal transformations an inevitable part of becoming a mother?Will Majella ever get her food groove back, or is her palate permanently altered?
When Leo and Majella found out they were expecting Emma, they left their apartment in Manhattan, and moved in search of a more suburban lifestyle in Queens.Were they right to make that move?How would Majella's experiences as a new mother have been better or worse if they had stayed in Manhattan, or if they had selected a more neutral setting than the house where Majella grew up?
Leo loves Majella, and he tries to be empathetic, but there are moments when he just doesn't understand what his wife is going through.Is he a supportive husband?How could he be better, more helpful?Is Majella right to get angry when he uses the word "babysitting" to describe staying home with their daughter, or does she overreact?
Eventually, Dr. Zimmer suggests a prescription to help ease Majella's anxiety.Should she take those pills?Why or why not?
How are Jade and Majella similar?In what ways are they different?Does either of these women represent a typical, new-mother experience, or are they both somewhere beyond the conventional ideas of what it's like to become a mother for the first time?Are those traditional concepts of new motherhood still changing, or have they become static?
When Majella reads her ancestor's diary, she begins to worry that she may have inherited some bad mothering genetics.Is she right to worry about this, or is it meaningless?Are parenting skills hereditary, or can women learn how to be patient, calm, and nurturing with their children, even if that sort of temperament doesn't come naturally?Is Majella looking for an excuse for her shortcomings?
At the beginning of the book, when the blight first sweeps Ireland, Ginny and Ray make the decision that one of them must go to America for work.Is this the right decision?Similarly, when Ginny and her children reach the brink of starvation, she leaves them home alone to seek out the position at Springhill House.Is she right to do this?Does she have any choice?Why or why not?
In her determination to save her children, Ginny relies heavily on help from her eleven-year-old daughter Maire.Is it fair for Ginny to place so much responsibility on Maire?Is there some part of Ginny that just wants to escape from the harrowing circumstances at home, or are her motives for leaving her children entirely pure?Does her leaving constitute abandonment?
It is Ginny's pregnancy that first endears her to Alice Spring, and the arrival of Ginny's infant son that consequently ensures Ginny's security at Springhill House.Ginny knows this; is she right or wrong to take advantage of Alice Spring's attachment to her baby?Is Alice Spring's fondness for Ginny's baby sweet or creepy, or a little of both?Could Ginny have discouraged the intensity of Alice Spring's devotion to her child and still maintained her position at the house?Does Ginny's behavior make her culpable, in some ways, for Alice Spring's ultimate unraveling?
The friendship that evolves between Ginny and Seán is a source of strength and comfort to her.He is integral in saving her children.Does their friendship ever feel improper or disloyal, given Ginny's marital status?When they first meet at Springhill House, are Seán's flirtations harmless, or does he really have romantic motives toward Ginny?Does Ginny respond to his flirtation appropriately?
The staff and residents at Springhill House live largely beyond the reach of the famine and, while some experience occasional glimmers of guilt, they mostly carry on as if everything is normal.Is this kind of "willful amnesia" immoral?What, if anything, could they do to help influence the events around them?What could any of the staff at Springhill do to save some of the starving population beyond the gate?What about Murdoch?Or Alice Spring?What is their moral imperative, and how does it differ from the people who work for them?
Alice Spring is decidedly eccentric, but is she crazy?Are her peculiarities the product of her situation in life (her childless abandonment by her husband, her sheltered detachment from the real world), or are those peculiarities just symptoms of her preexisting insanity?
When Seán comes to Ginny with news of her son Michael's illness, she decides to wait until nightfall before going to him.Is she right or wrong to make that decision, given what she knows at the time?Would it have made any difference if she had gone home sooner, the moment she learned that her son was sick?What might the outcome have been if she had behaved differently?
Near the end of the book, Ginny and Alice Spring have a violent confrontation that ends horribly.Did Ginny murder Alice Spring, or was it self-defense?A terrible accident?Some combination of these?Does Ginny's behavior in the aftermath of the struggle make her more or less culpable?Was she right to take all of the money and travelling papers, and to flee Ireland with her children?Or would it have been more honest for her to report Alice Spring's death to the authorities?As we learn from the recording in the library, Raymond thinks of his mother's actions as heroic.Are they?
When Majella learns the truth about her ancestor, she feels absolved and rejuvenated.How are Majella and Ginny alike?In what ways are they different?What about Majella's mother?Are there family characteristics that all of these women share, despite the generations that have passed between their stories?How much of motherhood is passed down, either through observation and experience, or genetics?To what degree is it possible for a woman to overcome poor examples of parenting and create her own path as a mother?
The book closes with Majella's mother finally coming to visit her new grandchild.Does this signal a significant change in their relationship?Will this baby girl of a new generation allow Majella and her mother to bond in a way they haven't before?Is Majella still angry with her mother?How have her feelings changed and why?
What do you think of the title, The Crooked Branch?Is Majella's mother right when she declares that "every family tree has at least one crooked branch?"Who, if anyone, is the crooked branch in this family?What does it mean to be the crooked branch?