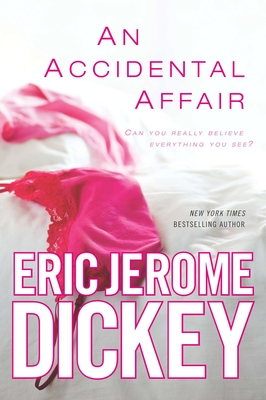 An Accidental Affair (Paperback)
Dutton Books, 9780451239280, 416pp.
Publication Date: April 2, 2013
Description
New York Times bestselling author Eric Jerome Dickey once again "pushes romance and deceit to the next level" (USA Weekend) in this tantalizing tale of a high-profile marriage rocked by scandal, obsession, and murder.
Screenwriter James Thicke is a man whose mysterious past runs as deep as his violent streak. Now he and his volatile movie star wife, Regina Baptiste, have channeled their passions into an electrifying new project: a film rumored to cross the boundaries of on-screen sexuality. But it's James's limits that are about to be tested--by a surreptitiously filmed video of his wife with her co-star Johnny Bergs, in the most comprising of situations. Within hours, it goes viral.
Regina claims she is innocent. But the humiliation and rage leave James with only one recourse--an act of violence that sends him on the run and into hiding. Seething with bitter betrayal, and a still-consuming love for his troubled wife, he nurses a slow-boiling desire for something more permanent: revenge. His need for vengeance takes James and Regina on a headlong odyssey of obsession, sexual impulse, blackmail, and murder. And getting back will be hell.
About the Author
Originally from Memphis, Tennessee, Eric Jerome Dickey is the New York Times bestselling author of nineteen novels. He is also the author of a six-issue miniseries of graphic novels for Marvel Entertainment, Inc., featuring Storm (X-Men) and the Black Panther. He lives on the road and rests in whichever hotel will have him.
Praise For An Accidental Affair…
Praise for An Accidental Affair

"Once again, Eric Jerome Dickey has written a genre bending…story that is chalk full of danger, intrigue, mysterious characters with shady motives, murder, intrigue…and obsession. Oh, and there's sex. Lots of graphic, erotic, steamy, sweaty, climactic earth-quaking sex…the reader is forewarned: you are in for a hardboiled, fast ride."—Seattle-Post Intelligencer

"The pace is fast, to be sure…A mix of erotica and noir…an ardent thriller."—Kirkus Reviews.

"A melodrama of infidelity among Hollywood's glittering stars…quirky and vivid."—Publishers Weekly

Further praise for Eric Jerome Dickey and his novels:

"Once you start…you'll have a tough time letting it go."—The Washington Informer

"Scenes that take your breath away…and a speed-of-light plot."—Booklist

"The high-octane narrative will have readers burning through page after page."—Publishers Weekly

"An action-packed classic noir thriller that draws you in from the first page."—Ebony

"Dickey taps the intimate emotions of a woman."—Entertainment Weekly

"[A] sizzling, sexy, downright gritty love story."—Library Journal

"No one does it like Eric Jerome Dickey."—Black Expressions

"Steamy romance, betrayal, and redemption. Dickey at his best."—USA Today

"Wonderfully written . . . smooth, unique, and genuine."—The Washington Post Book World

"Crackles with wit and all the rhythm of an intoxicatingly funky rap."—The Cincinnati Enquirer
Advertisement