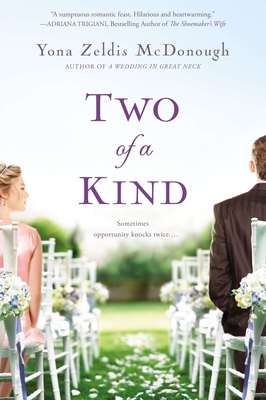 Two of a Kind
Paperback

* Individual store prices may vary.
Description
Ten years after losing her husband, Christina Connelly has worked through the pain, focusing on raising her teenage daughter and managing her small decorating business. But her romantic life has never recovered. Still, it's irksome to be set up with arrogant, if handsome, doctor Andy Stern at her friend's wedding. If he wasn't also a potential client, needing his Upper East Side apartment redesigned, she would write him off.

This is never going to work, Andy thinks. Still grieving his wife and struggling with a troubled son, he's not looking for a woman, and certainly not someone as frosty and reserved as Christina. Their relationship will be strictly business. Yet to everyone's surprise—including their own—these two find themselves falling in love.

But if reconciling with their pasts is difficult, blending their lives and children to create a new family is nearly impossible. They've been given a second chance…but can they overcome all the obstacles in the way of happily ever after?
 
Praise For Two of a Kind…
Praise for Two of a Kind
"McDonough crafts a complex romantic tale of two families, skillfully developing multidimensional characters. . .Multiple points of view show the complications of dating for parents, the compromise of interfaith romance, and the unforeseen consequences when lives get out of balance. Readers will delight in this layered tale of friendship and love."—
Publishers Weekly
"Honest and engrossing, this novel explores the intricacies of unexpected attraction, falling in love after losing a spouse and combining two resistant families. The characters are complex and captivating, adding depth to an already engaging plot, which culminates in a surprising twist. Four and a half stars."—
Romantic Times 
"Every now and then I stumble upon a truly delightful piece of women's fiction.
Two of a Kind
 falls into that category. . .A one of a kind tale."—
Romance Reviews

Praise for Yona Zeldis McDonough and A Wedding in Great Neck

"A born storyteller."—Laura Jacobs, author of Women About Town

"[McDonough is] an author at the top of her form."—Megan McAndrew, author of Dreaming in French

"Prose as sparkling as a champagne toast."—Caroline Leavitt, New York Times bestselling author of Pictures of You

"Spirited, entertaining, and a delight to read."—Lucy Jackson, author of Posh

"McDonough's skill is to be commended. A tender, clever story with emotional heft."—Booklist

"Fans of women's fiction about weddings and family drama are sure to enjoy."—Library Journal
Berkley, 9780451239532, 448pp.
Publication Date: September 3, 2013
About the Author
Yona Zeldis McDonough is the author of Two of a Kind, her soon-to-be released fifth novel, a second-chance-at-love story between a seemingly mismatched widow and widower. To read the first chapter, arrange a book club visit, or just to say hi, please contact Yona via her website or her Facebook fan pages, which she hopes you'll "like."

Yona's fourth novel, A Wedding in Great Neck, was described as, "A confection that is not only a page-turner but a poignant view of family life..." by Adriana Trigiani and Booklist added, "McDonough has assembled a touching, airy novel that manages to meld the concerns of family members spanning four generations into a delightfully well-written story…With an authorial voice that switches deftly between impulsive teen-speak and a stately matriarch's flashbacks, McDonough's skill is to be commended. A tender, clever story with emotional heft." A Wedding in Great Neck will soon appear in Norway.

Yona is also an award-winning children's book author with twenty-two books to her credit and has been the Fiction Editor at Lilith Magazine for over a dozen years. She lives with her husband, two children and small yappy dogs in Brooklyn, New York.
What are your first impressions of the two main characters, Christina Connelly and Andy Stern? Are they positive or negative?
Did those initial impressions change over the course of the novel and if so, how does that happen?
How does the old adage "opposites attract" play out here?
Do you feel that the differences in these two characters can be successfully overcome and that their marriage will stand the test of time?
What role does Andy's mother play? Do you feel Ida is sympathetic character?
How do Jordan and Oliver affect the relationship of their parents? Do you think they will be able to blend successfully and become a family?
Oliver accepts Christina much more easily than Jordan does Andy. Do you think that has more to do with who Andy is or who Jordan is?
Both Christina and Andy were happily married prior to the novel's opening. What effect do those prior relationships have on the one they are trying to build?
What significance does Christina's house play in the novel? How did you feel about what happens to it?
Christina is a believer in the poetry of objects. Are there particular objects that elicit this kind of response in you?
or
Not Currently Available for Direct Purchase