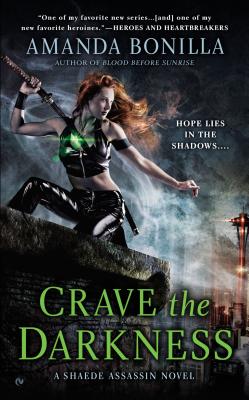 Crave the Darkness (Mass Market Paperbound)
A Shaede Assassin Novel
Berkley Books, 9780451239556, 336pp.
Publication Date: March 5, 2013
* Individual store prices may vary.
Description
Nothing comes easy for Darian. Her heightened powers make her indispensable to the Shaede Nation, but dangerous missions have driven her lover, Tyler, to his breaking point. Darian must salvage their bond, but a new assignment to protect Anya--a fellow Shaede and the first of their kind to become pregnant in centuries--stands in the way.
It doesn't help that the two Shaedes are longtime rivals and share nothing besides mutual hatred. But when it becomes clear that someone--or something--is bent on destroying the expectant mother and her unborn child, Darian must put her feelings aside and track down Anya's would-be assassin.
As she probes into Anya's past, Darian digs up long-buried secrets--and a startling connection between Tyler and the mission that could destroy everything between them....
About the Author
Amanda Bonilla lives in rural Idaho with her husband and two kids. She's a part-time pet wrangler and a full-time sun worshipper, and she only goes out into the cold when coerced. When she's not writing, she's either reading or talking about her favorite books.
Praise For Crave the Darkness: A Shaede Assassin Novel…
Praise for the Shaede Assassin series "An excellent new author and series…a tough yet compelling heroine. Full of fascinating characters, high-stakes intrigue, and fast-paced action, it's a truly exhilarating adventure! Do not miss out!"—Romantic Times (top pick, 4½ stars) "A one-of-a-kind, exciting adventure that kicks off from the first page.…Urban Fantasy readers will want to buy this book."—Night Owl Reviews (top pick, 4½ stars) "Truly transcendental as well as gritty…an abundance of awesome action, as well as raw romance, all wrapped up in a fast-paced story that is fresh and unparalleled. Shaedes of Gray is going down as one of my favorite new series, and Darian as one of my new favorite heroines."—Heroes and Heartbreakers
or
Not Currently Available for Direct Purchase