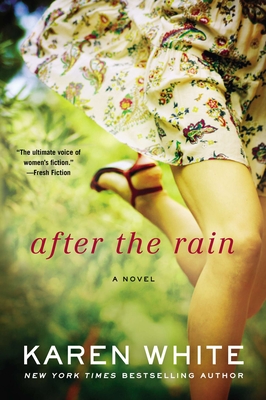 After the Rain (A Falling Home Novel)
Paperback

* Individual store prices may vary.
Other Editions of This Title:
Digital Audiobook (1/24/2013)
Hardcover, Large Print, Large Print (1/1/2013)
Description
From New York Times bestselling author of the Tradd Street novels comes the sequel to Falling Home, a novel set in the picaresque town of Walton, Georgia, where one woman is about to discover that the best journey is the one that brings you home.…

Freelance photographer Suzanne Paris has been on her own since she was fourteen—and she has no intention of settling down, especially not in a tiny town like Walton. She's here to hide out for a little while, not to form connections. Her survival depends on her ability to slip in and out of people's lives, on never staying in one place for too long.

But Walton is a town where everyone knows everyone else—and they all seem intent on making Suzanne feel right at home. She can't help but feel drawn to this tight-knit community—or to the town's mayor, Joe Warner, and his six kids. But Suzanne can't afford to stick around, even if she's finally found a place where she belongs. Because someone is looking for her—someone who won't stop until her life is destroyed…  

CONVERSATION GUIDE INCLUDED
Praise For After the Rain (A Falling Home Novel)…
Praise for New York Times bestselling author Karen White
 
"There is a rhythm to the writing of Karen White. It has a pace, a beat, a cadence that is all its own."—The Huffington Post

"White's dizzying carousel of a plot keeps those pages turning, so much so that the book can [be]—and should be—finished in one afternoon, interrupted only by a glass of sweet iced tea."—Oprah.com
 
"White captures the true essence of Charleston by intertwining the sights and smells of the historic town with an enchanting story filled with ghostly spirits, love, and forgiveness…a once-in-a-lifetime series."—Fresh Fiction
 
"This is storytelling of the highest order: the kind of book that leaves you both deeply satisfied and aching for more."—Beatriz Williams, New York Times bestselling author of Tiny Little Thing
 
"Readers will find White's prose an uplifting experience as she is a truly gifted storyteller."—Las Vegas Review-Journal
Berkley, 9780451239686, 384pp.
Publication Date: December 31, 2012
About the Author
Karen White is the New York Times bestselling author of more than twenty novels, including the Tradd Street series, The Night the Lights Went Out, Flight Patterns, The Sound of Glass, A Long Time Gone, and The Time Between. She is the coauthor of The Forgotton Room with New York Times bestselling authors Beatriz Williams and Lauren Willig. She grew up in London but now lives with her husband and two children near Atlanta, Georgia.
After the Rain is a sequel to the author's earlier work Falling Home. If you've read Falling Home, do you remember these characters and how have they changed? Is it a pleasurable experience to reunite with them? Did you have any suspicions about Suzanne's true identity?
How does the author create such a vivid sense of place? How would you describe Walton? Do you recognize your own hometown in this special corner of the world?
The women of Walton keep the community strong, and literally are the caretakers of memories (as with Maddie's scrapbook). In what other ways are women the soul of the town?
How have Harriet's children dealt with the loss of their mother? How have the adults?
Does Suzanne do the right thing by prolonging her exit from Walton, even as it begins to put Joe's career in jeopardy?
What prevents Suzanne and Joe from moving forward in a romantic relationship? How does Harriet's presence still inhabit the day-to-day lives of her family and home?
Why do you think Maddie chooses to confide in Suzanne, a stranger to town, over her own family, and especially Cassie? How is Suzanne safe or more objective? How does she help in the situation?
Had you heard of "pennies from Heaven" before? Do you think such a phenomena is real? Or have you experienced it?
Do you think Harriet would have (or does) give her blessing to Joe to move on? Would you want your loved one to find love again after you pass on?
Could you have destroyed the negative? What do you think you would have done in this situation? How does Suzanne attempt to make up the loss to Maddie?
Do you think Cassie's objections, and guarded behavior, to Suzanne was justified? Is Joe's personal life and affairs really her business? Does Cassie see a little of herself in Suzanne?
"She remembered cradling Maddie that night on her porch, and the tight feeling in her chest she'd experienced while watching Harry sleep in his crib. And even the need to make the hurt go away when Sarah Frances has been sick with chicken pox." Do you find this description accurately paints "maternal feelings"? Would you add any others? Do you think Suzanne is ready to assume a maternal role?
Where do you see the main characters of this book in five years? In thirty?
or
Not Currently Available for Direct Purchase