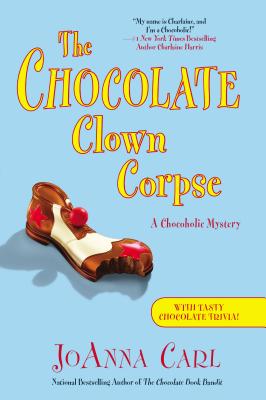 The Chocolate Clown Corpse (Hardcover)
New American Library, 9780451240675, 227pp.
Publication Date: November 4, 2014
Other Editions of This Title:
Mass Market (11/3/2015)
Hardcover, Large Print (2/25/2015)
* Individual store prices may vary.
Description
Revenge is sweet for a killer on the loose--and it all started with the murder of Warner Pier's most hated clown....
Everyone who knew the bozo wanted him dead. Odd, then, that a complete stranger was accused of bursting Moe Davidson's balloons. But it's been a month since the miserable shop owner of Clowning Around was killed, and everybody's moving on, including Lee Woodyard. Her chocolate shop, TenHuis Chocolade, is next door to Moe's shuttered tourist trap, and it's giving her delicious ideas to expand. But over whose dead body?
Moe's widow, Emma, and her two stepchildren list the property for sale, but when Lee tours the building, she finds Emma unconscious. Now Lee wonders whether Moe's real killer is still at large and is taking care of unfinished business. Unfortunately, since the town is celebrating Clown Week, there are so many potential suspects in grease paint and floppy shoes it's not even funny.
For Lee, protecting Emma, freeing an innocent man, and rolling out hundreds of her clown-themed chocolates is a pretty tall order. But so is staying alive long enough to find out which one of her neighbors is a killer in disguise.
Includes Tasty Chocolate Trivia
About the Author
JoAnna Carl is the pseudonym for a multipublished author. She spent more than twenty-five years in the newspaper business as a reporter, feature writer, editor, and columnist. She holds a degree in journalism from the University of Oklahoma and also studied in the OU Professional Writing Program, and is the author of the Chocoholic Mystery series which includes The Chocloate Book Bandit.. She lives in Oklahoma but summers in Michigan, where the Chocoholic Mystery series is set.
Praise For The Chocolate Clown Corpse…
Praise for the Chocoholic Mystery series

"I'm proud to stand up and say, 'My name is Charlaine, and I'm a Chocoholic!'"—#1 New York Times bestselling author Charlaine Harris

"Keeps you guessing all the way to the end."—Kirkus Reviews

"JoAnna Carl satisfies your sweet tooth along with your craving for a tasty whodunit."—Cleo Coyle, author of the Coffeehouse Mysteries

"A deft mix of truffles and trouble. Chocaholics—this book is for you!"—Laura Childs, author of the Tea Shop mysteries

"A real page-turner, and I got chocolate on every one!"—Tamar Myers, author of Butter Safe Than Sorry

"[A] delectable treat starring a heroine impossible to dislike."—Midwest Book Review

"Anyone who loves chocolate—and who doesn't?—will love this delicious, fast-paced addition to the Chocoholic Mystery series. It has more twists and turns than a chocolate-covered pretzel!"—Leslie Meier, author of The Wicked Witch Murder

"Dollops of chocolate lore add to the cozy fun."—Publishers Weekly

"Deliciously cozy…richly entertaining and has no calories." —Elaine Viets, author of the Dead-End Job mysteries

"JoAnna Carl's books are delicious treats, from the characters to the snippets of chocolate trivia."—Roundtable Reviews
or
Not Currently Available for Direct Purchase