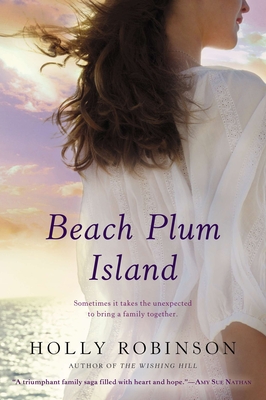 Beach Plum Island (Paperback)
Berkley, 9780451241023, 400pp.
Publication Date: April 1, 2014
* Individual store prices may vary.
Description
"Your brother should know the truth."

These are the last cryptic words that Ava Barrett's father says before he dies. But Ava doesn't have a brother, as far as she knows, so how can she tell him the truth? She dismisses the conversation and dedicates herself to bringing her family together for her father's funeral. This is no easy task, since her sister, Elaine, has been estranged from the family and still harbors resentment against their stepmother and half-sister, Gigi. Ava, on the other hand, is a single mother who sees Gigi as a troubled teen in need of love and connection.

Ava, too, could use more love in her life and finds it where she least expects it. But the biggest surprise of all is that Gigi holds the key to the mystery surrounding her father's dying words, and joins Ava in uncovering a secret that rapidly unravels the very fabric of their entire family…

CONVERSATION GUIDE INCLUDED
About the Author
Holly Robinson is an award-winning journalist whose work has appeared in Better Homes and Gardens, Family Circle, Huffington Post, Ladies' Home Journal, More, Open Salon, and Parents. She is the author of one previous novel, The Wishing Hill and a memoir, The Gerbil Farmer's Daughter. Robinson holds a B.A. in biology from Clark University and an M.F.A. in creative writing from the University of Massachusetts, Amherst. She and her husband have five children, two cats, a grumpy hamster, and two very stubborn small dogs.
Praise For Beach Plum Island…
Praise for Beach Plum Island
"In this absorbing, big-hearted novel, Holly Robinson explores sibling bonds, love in middle age, and the intricate dance of a blended family. The painful past is everywhere in Beach Plum Island, but the present moment shines through."—Elizabeth Graver, author of The End of the Point
"Robinson uses Beach Plum Island to explore the conflicts that can surface between brothers and sisters, half-sisters and half-brothers, and stepsiblings when divorces rip families apart and remarriages attempt to weave them into a new fabric." —
The Daily News
 (Newburyport, MA)
"A family novel with plenty of emotional punch. . . Robinson weaves each sister's story into a tale of grief and love that explores the ways women adapt to expectations, the consequences when those become too much to bear, and the healing power of love. Along the way, she includes details that bring every scene to life. . . An uplifting but not overly bow-tied ending makes for satisfying reading."—
The Concord Monitor
"What a great cast of characters Holly Robinson has created in this fun and touching novel."—The Good, The Bad and The Unread
"Anyone liking romance with a little mystery and the shedding of a few tears will enjoy this book as much as I did."—Open Book Society
"Sensitivity clearly enables every character in this novel to grow, to expose grievous secrets and to create new life that erodes the tension too long lying just below the surface.  Lovely, powerful story that is well-crafted."—Crystal Book Reviews

"In Beach Plum Island, Holly Robinson's rich details transport you to picturesque New England and right into the core of the conflicted Barrett family. Robinson tugs at your emotions from the viewpoint of the three complex and very different Barrett sisters, through whom the author deftly explores grief, secrets, and shunned family ties. This story reveals the way people become stronger when they are together rather than apart, and proves that it is never too late to become a family. Beach Plum Island is a triumphant family saga filled with heart and hope. I couldn't put it down!"—Amy Sue Nathan, author of The Glass Wives

"Holly Robinson is a natural-born storyteller and her tale of three mismatched sisters and the lost brother they search for will keep you turning those pages as she quietly but deftly breaks your heart. I loved every single one of her characters and you will too; here is a novel to savor and share."—Yona Zeldis McDonough, author of Two of A Kind

 
Elaine chooses to live with her mother during her last year of life, while Ava steers clear of her mother's mental health issues and concentrates on her own family.Did these women make the right choices?
Why is it so much easier for Ava to acknowledge that Gigi is their sister than it is for Elaine, and how do their attitudes toward their father's second family help determine the events in the novel?
Gigi and Elaine both have unsatisfactory sexual encounters in Beach Plum Island.What propels them into these relationships?Do you think their behavior is realistic or not?
Ava tells Simon that we each "carry landscapes inside us."What does she mean by this?If you had to describe a landscape to represent your own life, what would that landscape look like?
At one point, Ava says to Gigi, "Nobody outside a marriage can really know what's happening on the inside of it."How is this true for the married couples in this book?In your own life?
Ava compares raising a child to making a piece of art.Do you think parenting is more of an art or a science?
Do you agree with Elaine's assessment early in the novel that Ava has "no idea what it was like to live in the real world?"Or is Elaine deluding herself by thinking she's more worldly than her sister?
Ava and Elaine both fall in love with men who they think are "wrong" for them.Why do they think that, and what makes these relationships work, contrary to their own expectations?
What role do sibling relationships play in this novel?How have your own sibling relationships helped shape your life?
At some point, Elaine thinks, "Why are we here?Why do one thing and not another?Why love one person and not someone else, or anyone at all, if everyone's story ends the same way?"Do you think she answers these questions by the end of Beach Plum Island?Have you answered them in your own life?
Many women gave Peter up when he was a child:Suzanne, Marie, and Finley.What were the societal and cultural reasons each woman did what she did?How might things have gone differently if Peter had been born now instead of in the nineteen seventies?