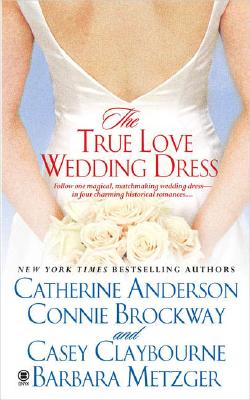 The True Love Wedding Dress
Paperback

* Individual store prices may vary.
Description
Long ago, a poor servant girl created an exquisite wedding gown for her haughty mistress, who was to marry the man that the girl loved with all her heart. Though tempted to stop the marriage using her secret magical skills, she instead ensured the groom's happiness by enchanting the dress so that whoever possessed it would be blessed with true love.
But the spell went delightfully awry, working its magic for the servant girl instead of her mistress-and then the dress mysteriously vanished. Who knows where or when it may turn up next, for some blushing bride to claim as her very own?
Berkley, 9780451411990, 368pp.
Publication Date: November 1, 2005
About the Author
Catherine Anderson lives in the Oregon mountains with her husband and her Rottweilers, Sam and Sassy, who seem convinced that they are teacup poodles and that obedience training is for people. Catherine spends leisure time with her family and friends, including her sons and daughter-in-law, often discussing intriguing story twists for her books. Such talks can draw curious stares if they happen to take place in a restaurant and involve plotting the demise of a fictitious villain.
An award-winning author of twenty published works, Catherine is currently working on her next full-length romance for Onyx.
The author of seventeen full length novels, Connie Brockway lives in Minnesota with her husband and several dogs. An adult daughter has managed to escape to warmer climes. For now.
Casey Claybourne would tell you that she was born under an entire galaxy of lucky stars. Married to the boy she had a crush on in high school, Ms. Claybourne lives in Northern California with her husband and two small children. A graduate of the University of California at Berkeley, she sold her first manuscript to the Berkley Publishing Group in 1993. Her second novel, My Lucky Lady, was an Affaire de Coeur finalist for Best Regency of 1994.
Barbara Metzger is the author of more than two dozen Regency romances, and the proud recipient of a Romantic Times Career Achievement Award for Regencies. When not writing Regencies or reading them, she paints, gardens, volunteers at the local library, and goes beachcombing on the beautiful Long Island shore with her little dog, Hero. She loves to hear from her readers, care of Signet or through her Web site.
or
Not Currently Available for Direct Purchase