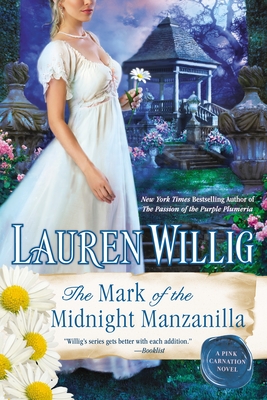 The Mark of the Midnight Manzanilla (Pink Carnation #11)
Paperback

* Individual store prices may vary.
Other Editions of This Title:
Digital Audiobook (8/4/2014)
Description
NEVER BEFORE PUBLISHED!

In the latest Pink Carnation novel from New York Times bestselling author Lauren Willig, rumors spreading among the ton turn deadly as a young couple unites to solve a mystery....
 
In October of 1806, the Little Season is in full swing, and Sally Fitzhugh has had enough of the endless parties and balls. With a rampant vampire craze sparked by the novel The Convent of Orsino, it seems no one can speak of anything else. But when Sally hears a rumor that the reclusive Duke of Belliston is an actual vampire, she cannot resist the challenge of proving such nonsense false. At a ball in Belliston Square, she ventures across the gardens and encounters the mysterious Duke.
 
Lucien, Duke of Belliston, is well versed in the trouble gossip can bring. He's returned home to dispel the rumors of scandal surrounding his parents' deaths, which hint at everything from treason to dark sorcery. While he searches for the truth, he welcomes his fearsome reputation—until a woman is found dead in Richmond. Her blood drained from her throat.
 
Lucien and Sally join forces to stop the so-called vampire from killing again. Someone managed to get away with killing the last Duke of Belliston. But they won't kill this duke—not if Sally has anything to say about it.
 
READERS GUIDE INCLUDED
Praise For The Mark of the Midnight Manzanilla (Pink Carnation #11)…
Praise for the Novels of Lauren Willig
 
"[This] sparkling series continues to elevate the Regency romance genre."—Kirkus Reviews
 
"Full of history…plenty of romance."—New York Daily News
 
"Jane Austen for the modern girl."—New York Times Bestselling Author Christina Dodd
Berkley, 9780451414731, 496pp.
Publication Date: August 5, 2014
About the Author
Lauren Willig is the New York Times bestselling author of the Pink Carnation novels. She is a RITA Award winner and lives in New York City.
The Duke of Belliston's introduction in the novel is shrouded in mystery and distorted by fantastical gossip about him being a vampire. Did this color your initial perception of him? Or do you think the mysteriousness of his character made him more intriguing?
"Just because the man scorns society doesn't mean that he's an unholy creature of the night." Even before Sally has met the duke, she defends him from the slanderous gossip of the ton. What do you think this says about the type of person she is?
How do you think the death of Lucien's parents and his strained relations with the surviving members of his family shaped his character? How does his family situation impact his relationship with Sally?
Lucien and Sally are both very strong-willed individuals who prefer to be in control of various situations that arise. Do you think that either of them has the upper hand in their relationship at the beginning? Do you feel that the power dynamic between them changes over the course of the story? How do you think this will this affect their relationship going forward?
Do you think Sally and Lucien make a good couple? What about each of them makes them perfectly suited for one another? What makes them perhaps not perfectly suited?
Discuss Lucien's motivations for running away to the Americas in the aftermath of his parents' deaths. Do you think his fears were justifiable? If he had stayed (and tried to avenge his parents' deaths), do you think he would have grown up to be the same man? How do you think he will make amends for his actions moving forward with Sally by his side?
Initially, who did you think was actually responsible for the murder of Lucien's parents? Were you surprised when the real villain was revealed at the end? What were some of the clues that that might have pointed to the real villain?
Why did you think Colin was initially so distant toward Eloise when he came to visit her? If you were her friend, what advice would you have given her? Were you caught off guard when he proposed to her at the end?
Why do you think Miss Gwen suggested that Lucien and Sally enter into a false engagement? Do you think she perceived their budding feelings for one another and was trying to "help things along"?
"You're a one woman cavalry charge! It doesn't matter if it's a windmill at the other end, you'll tilt at it anyway, because: You. Don't. Stop. To. Look. Everyone else's troubles are just so much fodder for your entertainment. Never mind the toes you might tread on in the process." Do you think Lucien's accusations are true? Would you like Sally's character as much if she were less meddlesome and officious? Or do you think that's part of what makes Sally so endearing and lovable?
Just what do you think Sally has against chickens?
What do you think Sally gains from her relationship with her pet Lady Florence? Does the stoat provide some sort of emotional support?
What do you think of Sally's relationship with Lizzy and Agnes? At the beginning of the book, their friendship is undergoing a change as they move from their school days to their new positions in the outside world. Do you think those bonds will stand the test of their changing circumstances?
Even though the Pink Carnation is offstage in this book, what do you think she might be up to? Do you think she and Miss Gwen are still working together in some capacity?
At the end of the book, Eloise thinks to herself that "the best things sometimes happened by accident." Do you think this is generally true of life, or do you think things turn out better when they're planned?
or
Not Currently Available for Direct Purchase