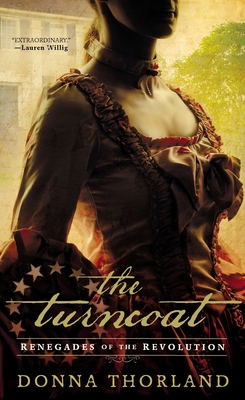 The Turncoat (Paperback)
Renegades of the American Revolution
Berkley, 9780451415394, 432pp.
Publication Date: March 5, 2013
* Individual store prices may vary.
Description
They are lovers on opposite sides of a brutal war, with everything at stake and no possibility of retreat. They can trust no one—especially not each other.

Major Lord Peter Tremayne is the last man rebel bluestocking Kate Grey should fall in love with, but when the handsome British viscount commandeers her home, Kate throws caution to the wind and responds to his seduction. She is on the verge of surrender when a spy in her own household seizes the opportunity to steal the military dispatches Tremayne carries, ensuring his disgrace—and implicating Kate in high treason. Painfully awakened to the risks of war, Kate determines to put duty ahead of desire, and offers General Washington her services as an undercover agent in the City of Brotherly Love.

Months later, having narrowly escaped court martial and hanging, Tremayne returns to decadent, British-occupied Philadelphia with no stomach for his current assignment—to capture the woman he believes betrayed him. Nor does he relish the glittering entertainments being held for General Howe's idle officers. Worse, the glamorous woman in the midst of this social whirl, the fiancée of his own dissolute cousin, is none other than Kate Grey herself. And so begins their dangerous dance, between passion and patriotism, between certain death and the promise of a brave new future together.

READERS GUIDE INCLUDED
About the Author
Graduating from Yale with a degree in Classics and Art History, Donna Thorland managed architecture and interpretation at the Peabody Essex Museum in Salem, MA, for several years. She then earned an MFA in film production from the University of Southern California School of Cinematic Arts. She has been a Disney/ABC Television Writing Fellow and a WGA Writer's Access Project Honoree, has written for the TV shows Cupid and Tron: Uprising, and is a writer on the WGN drama Salem. The director of several award-winning short films, her most recent project aired on WNET Channel 13. Her fiction has appeared in Alfred Hitchcock's Mystery Magazine. She is the author of the Renegades of the American Revolution series, including The Turncoat, The Rebel Pirate, Mistress Firebrand, and The Dutch Girl.
Praise For The Turncoat: Renegades of the American Revolution…
"Very entertaining."—
New York Times
bestselling author Margaret George
"A stay-up-all-night, swashbuckling, breath-holding adventure of a novel…An extraordinary book about an extraordinary heroine."—Lauren Willig, National Bestselling Author of the Pink Carnation series
"Fabulous…A world of spies, suspense, skullduggery, and sex.  You won't want to stop reading."— New York Times Bestselling Author William Martin
What is your overall response to the novel? What do you like best?
Were you surprised to learn that characters you thought were fictional are actually based on historical figures? Which ones did you recognize and which ones were new to you?
Does the novel leave you with a different understanding of the American Revolution than you had before? If so, what new insights have you gained?
Angela Ferrers tells Kate that whereas male spies, if captured, are hanged with honor in public, female spies are raped, tortured, and executed in secret. Given what you know of the time period, why do you think that was? Does it make you think differently of famous spy Nathan Hale, who proclaimed he only regretted that he had but one life to give for his country?
Compare the two generals in the novel—Howe and Washington—as military strategists and as men of character.
What do you think of Bayard Caide? How might his origins have shaped his need to exert power and control through physical suffering? Do you see any redeeming qualities in him? Do you understand why Kate is both attracted to and repelled by him?
Do you find Kate's romance with Tremayne believable and satisfying? In what ways does the author suggest that their attraction involves more than mere physical attraction? What future do you see for them?
What do you think of Colonel Karl von Donop, both as a soldier and as a man infatuated with Angela Ferrers? Does his sense of honor and romanticism appeal to you? Do you think Karl and Angela really loved each other?
Discuss the many couples who interact with each other—even fall in love—despite being on opposite sides of the American conflict. In each case, how do they reconcile their political beliefs with their personal inclinations?
Compare the Kate we first meet in the novel to Kate at the end. What has she learned? What has she endured? How has she matured?
Discuss Peggy Shippen's love life. How is she deluded about her relationships, and what are the consequences? Is she much different from contemporary young women you know?
At the end, we learn that Angela Ferrers was a woman of significant property, and probably even an aristocrat, yet she refused to reveal exactly who she was. Why do you think she sought to hide her complete identity?
John Andre acts largely as a villain in the novel, but there's a twist in the way he meets his end. Does Kate change her mind about him? Did you?
Is Kate's father wrong in leaving her to become an officer in Washington's army? In what ways does he protect her and fail to protect her? How does he show his respect for her? Can you imagine a contemporary father making similar choices regarding his daughter?