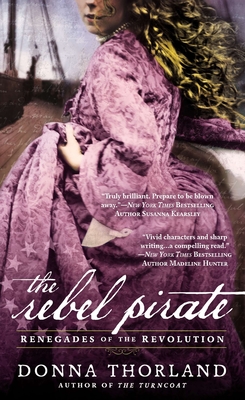 The Rebel Pirate (Renegades of Revolution #2) (Paperback)
Berkley Books, 9780451415400, 416pp.
Publication Date: March 4, 2014
Description
"Let Donna Thorland sweep you back to the American Revolution, into a world of spies, suspense, skullduggery, and sex."--New York Times Bestselling Author William Martin 1775, Boston Harbor. James Sparhawk, Master and Commander in the British Navy, knows trouble when he sees it. The ship he's boarded is carrying ammunition and gold...into a country on the knife's edge of war. Sparhawk's duty is clear: confiscate the cargo, impound the vessel and seize the crew. But when one of the ship's boys turns out to be a lovely girl, with a loaded pistol and dead-shot aim, Sparhawk finds himself held hostage aboard a Rebel privateer.

Sarah Ward never set out to break the law. Before Boston became a powder keg, she was poised to escape the stigma of being a notorious pirate's daughter by wedding Micah Wild, one of Salem's most successful merchants. Then a Patriot mob destroyed her fortune and Wild played her false by marrying her best friend and smuggling a chest of Rebel gold aboard her family's ship. Now branded a pirate herself, Sarah will do what she must to secure her family's safety and her own future. Even if that means taking part in the cat and mouse game unfolding in Boston Harbor, the desperate naval fight between British and Rebel forces for the materiel of war--and pitting herself against James Sparhawk, the one man she cannot resist. READERS GUIDE INCLUDED
About the Author
Graduating from Yale with a degree in Classics and Art History, Donna Thorland managed architecture and interpretation at the Peabody Essex Museum in Salem, MA, for several years. She then earned an MFA in film production from the University of Southern California School of Cinematic Arts. She has been a Disney/ABC Television Writing Fellow and a WGA Writer's Access Project Honoree, has written for the TV shows Cupid and Tron: Uprising, and is a writer on the WGN drama Salem. The director of several award-winning short films, her most recent project aired on WNET Channel 13. Her fiction has appeared in Alfred Hitchcock's Mystery Magazine. She is the author of the Renegades of the American Revolution series, including The Turncoat, The Rebel Pirate, Mistress Firebrand, and The Dutch Girl.
Praise For The Rebel Pirate (Renegades of Revolution #2)…
Praise for The Rebel Pirate

"Authentic detail, amazing characters, and a dazzlingly broad sweep of action make this a richly romantic adventure that's hard to put down. Truly brilliant. Prepare to be blown away."—Susanna Kearsley, New York Times bestselling author of The Splendour Falls

"Donna Thorland has done it again, and it's even more of a scorching read this time.  A pirate heroine falls for a stiff-lipped British captain in this sexy, dangerous gallop through the American Revolution.  Swashbuckling high seas adventure crossed with desire-driven romance, all dished up with perfect historical detail from head to heel."—Bee Ridgeway, author of The River of No Return

"A fast paced, soundly researched historical intrigue, with vivid characters and sharp writing, The Rebel Pirate is a compelling read."—Madeline Hunter, New York Times bestselling author of The Counterfeit Mistress

Praise for Donna Thorland and The Turncoat

"A combination of historical espionage and smoldering romance, Thorland's first novel is a surprising and engrossing tale. Immersing the reader in 1777 Philadelphia, sweeping from decadent high-society balls to the filth of battlefield infirmaries, Thorland exhibits real passion for the time period. Fans of Philippa Gregory and Loretta Chase will find The Turncoat a thrilling read."—Booklist

"One of the great joys of historical fiction is that it can carry you into another world, submerge you in its trappings, capture you in its conflicts, and let you experience history as it is lived. One of the great joys of reading is to find a new author who creates strong characters, builds vivid scenes, and writes with the assured confidence of an old pro. So allow me the great joy of introducing you to Donna Thorland and her fabulous first novel, The Turncoat. Let Donna sweep you back to the American Revolution, into a world of spies, suspense, skullduggery, and sex. You won't want to stop reading. You won't want to come back to the present."—William Martin, New York Times bestselling author of Back Bay

"A stay-up-all-night, swashbuckling, breath-holding adventure of a novel…an extraordinary book about an extraordinary heroine."—Lauren Willig, national bestselling author of the Pink Carnation series

"Very entertaining."—Margaret George, New York Times bestselling author of Elizabeth I

"Set in a fascinating and turbulent time in America's history and featuring an extraordinary heroine, The Turncoat is a wonderful debut. It's a trip into the dangerous past from the comfort of your reading chair, filled with romance, authenticity, and great storytelling—the very best of what historical fiction can be."—Simone St. James, author of The Haunting of Maddy Clare and An Inquiry into Love and Death
What is your overall response to the novel? What do you like best? Do you mind that the story takes place before events of The Turncoat, the first book in the Renegades of the Revolution trilogy?
Were you surprised to learn of the naval skirmishes between the British and Rebels that took place in Boston Harbor and all up and down the New England coast, even as the more familiar events in Lexington and Concord were unfolding? How has your understanding of the American Revolution changed after reading this book?
Which secondary characters did you like best, and why?
Angela Ferrers also appears in The Turncoat. Discuss her role in both books.
Many of the characters in The Rebel Pirate lack strong political conviction, but by the end many of them have joined the Rebel side. Discuss the events that lead each character to this conclusion, and the various ways in which each is "radicalized" to take up arms against the prevailing government. Does this have implications for our own age?
James Sparhawk and Sarah Ward are drawn to each other right from the start. Does Donna Thorland convince you that their attraction goes deeper than mere lust? How does she accomplish that? Do you find their romance satisfying? What future do you envision for them?
Without realizing that Anthony Trent and James Sparhawk are related in any way, Sarah becomes engaged to the father of the man she loves. It's a risky plot twist. Does Donna Thorland pull it off?
Anthony Trent is not quite the murderer that his son believes, but he's not entirely innocent either. Discuss the choices he has made and his efforts to make amends. Do you believe he is thoroughly reformed?
Discuss the relationship between Benjamin Ward and Charles Ansbach. What role does honor play? How does their unequal social status affect their relationship and the Ward family's fortunes?
Discuss the role of money in the book, and during this time period. What happens to the characters when they get it, and when they lose it? Who plays false to acquire money, and what happens to them when they're found out? What do you think of the way captured ships, and their cargo, were taken as "prizes" to enrich the captors? Can you think of a modern-day equivalent?
Betrayal is a pervasive theme. Discuss the various perceived or confirmed betrayals that the characters commit, what motivates them, and what consequences follow. Who, on the other hand, chooses loyalty over betrayal, and how do they fare?
Sarah had a happy childhood growing up in Salem. Drawing upon the few details that we're told, discuss what her childhood might have been like. How does it compare to Sparhawk's upbringing? How do their experiences compare to the ways children are raised in this country today?
What do you think you will remember about this book six months from now?
Advertisement