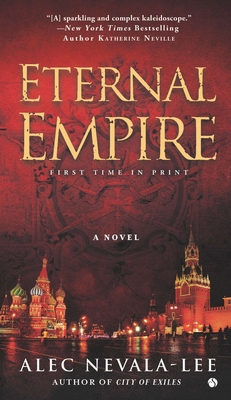 Eternal Empire (An Icon Thief Novel) (Paperback)
Berkley, 9780451415660, 416pp.
Publication Date: September 3, 2013
* Individual store prices may vary.
Description
An electrifying mystery that will draw one woman into a global conspiracy—and into the sights of one of the most dangerous men in the world...
 
Maddy Blume is a survivor. Years ago, while working as an art analyst in New York, she was changed forever by an encounter with Ilya Severin, the thief and former assassin once known as the Scythian. Now, in London, she is presented with an unusual proposition: to go undercover as an art consultant to a Russian oil billionaire suspected of channeling profits to military intelligence.
 
As Maddy grows closer to her new boss, however, she discovers that his ambitions extend far beyond natural resources. He is out to shape the future of Russia on a massive scale, using the secret of the mythical empire of Shambhala in a quest that will lead Maddy on a violent odyssey across Europe and to the far edge of the Black Sea.
 
Yet her involvement has not gone unnoticed. Not by the secret police. Not by her employer's rivals. And least of all by the Scythian himself...
About the Author
Alec Nevala-Lee was born in Castro Valley, California, and graduated from Harvard College with a bachelor's degree in Classics. His work has appeared in such publications as Analog Science Fiction and Fact, The Daily Beast, Salon, and the Los Angeles Times. He lives with his family in Oak Park, Illinois.
Praise For Eternal Empire (An Icon Thief Novel)…
Praise for the novels of Alec Nevala-Lee
"A dazzlingly detailed and authentic world of intrigue, weaving a harrowing tale that will enthrall readers...evokes le Carré and an intricate, continent-crossing plot reminiscent of 
The Day of the Jackal
...Nevala-Lee is clearly emerging as one of the most elegant new voices in suspense literature."—David Heinzmann, author of 
Throwaway Girl
"Alec Nevala-Lee is no debut author; he must have been a thriller writer in some past life. This one has everything: great writing, great characters, great story, great bad guy, and a religious conspiracy to boot.
The Icon Thief
 is smart, sophisticated, and has enough fast-paced action to keep anyone up past midnight. I'm jealous."—
New York Times
 bestselling author Paul Christopher
"Twists and turns aplenty lift this thriller above the rest. From the brutal thugs of the Russian Mafia to the affected inhabitants of the American art world, this book introduces a cast of believable and intriguing characters. Add a storyline where almost nothing is as it first appears, and where the plot turns around on itself to reveal startling contradictions, and the result is a book that grips and holds the reader like a vice. I devoured it in a single sitting."— National bestselling author James Becker  
"Alec Nevala-Lee comes roaring out of the gate with a novel that's as thrilling as it is thought-provoking, as unexpected as it is erudite. The Icon Thief is a wild ride through a fascinating and morally complex world, a puzzle Duchamp himself would have applauded. Bravo."— National bestselling author Jesse Kellerman