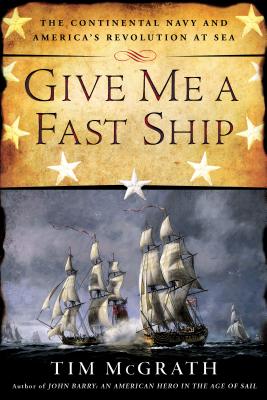 Give Me a Fast Ship
The Continental Navy and America's Revolution at Sea
Hardcover

* Individual store prices may vary.
Other Editions of This Title:
Paperback (7/7/2015)
MP3 CD (7/1/2014)
Compact Disc (7/1/2014)
Compact Disc (7/1/2014)
MP3 CD (7/19/2016)
Compact Disc (7/19/2016)
Description
Five ships against hundreds--the fledgling American Navy versus the greatest naval force the world had ever seen.
America in 1775 was on the verge of revolution--or, more likely, disastrous defeat. After the bloodshed at Lexington and Concord, England's King George sent hundreds of ships westward to bottle up American harbors and prey on American shipping. Colonists had no force to defend their coastline and waterways until John Adams of Massachusetts proposed a bold solution: The Continental Congress should raise a navy.
The idea was mad. The Royal Navy was the mightiest floating arsenal in history, with a seemingly endless supply of vessels. More than a hundred of these were massive -ships of the line, - bristling with up to a hundred high-powered cannon that could level a city. The British were confident that His Majesty's warships would quickly bring the rebellious colonials to their knees.
They were wrong. Beginning with five converted merchantmen, America's sailors became formidable warriors, matching their wits, skills, and courage against the best of the British fleet. Victories off American shores gave the patriots hope--victories led by captains such as John Barry, the fiery Irish-born giant; fearless Nicholas Biddle, who stared down an armed mutineer; and James Nicholson, the underachiever who finally redeemed himself with an inspiring display of coolness and bravery. Meanwhile, along the British coastline, daring raids by handsome, cocksure John Paul Jones and the -Dunkirk Pirate, - Gustavus Conyngham--who was captured and sentenced to hang but tunneled under his cell and escaped to fight again--sent fear throughout England. The adventures of these men and others on both sides of the struggle rival anything from Horatio Hornblower or Lucky Jack Aubrey. In the end, these rebel sailors, from the quarterdeck to the forecastle, contributed greatly to American independence.
Meticulously researched and masterfully told, Give Me a Fast Ship is a rousing, epic tale of war on the high seas--and the definitive history of the American Navy during the Revolutionary War.
INCLUDES NINE MAPS AND SIXTEEN PAGES OF FULL COLOR ILLUSTRATIONS
Praise For Give Me a Fast Ship: The Continental Navy and America's Revolution at Sea…
"In Give Me a Fast Ship, naval historian Tim McGrath has given us a meticulous, adrenalin-filled account of the earliest days of the Continental Navy, and a John Paul Jones for our times and for the ages." —Laurence Bergreen, New York Times bestselling author of Over the Edge of the World: Magellan's Terrifying Circumnavigation of the Globe and Columbus: The Four Voyages

"I've seldom enjoyed a work of historical nonfiction as much as Give Me A Fast Ship. Here, Tim McGrath helps readers learn about a vital, if little-known aspect of the American Revolution and feel royally entertained at the same time. That's a rare combination, and Give Me a Fast Ship is a special book. After reading it, McGrath will be one of your favorite historians, as he now is of mine." —Jeff Guinn, New York Times bestselling author of Manson: The Life and Times of Charles Manson

PRAISE FOR JOHN BARRY: AN AMERICAN HERO IN THE AGE OF SAIL
 
"Ashore as well as at sea, Tim McGrath paints an informative, engaging, and highly entertaining portrait of this worthy but neglected hero of American independence. The author shows us a man who was a magnificent embodiment of the common sense—and uncommon courage and dedication—that helped to transform age-old philosophical ideals into a new American reality. That such a work is long overdue makes its achievement all the more pleasurable."—The Wall Street Journal
 
"Expertly brought together…very readable and exhaustively researched…this authoritative biography brings new attention to a hero whose story had faded from national memory. It's a fresh look at a man worth remembering, and a great summer read."—The Philadelphia Inquirer
 
"McGrath employs exemplary narrative style in this work….In John Barry, the author adroitly juxtaposes maritime history, narratives of naval combat, and early U.S. social history."—New England Quarterly

"A nearly indispensable addition to U.S. Navy collections."—Booklist
 
New American Library, 9780451416100, 543pp.
Publication Date: July 1, 2014
About the Author
Tim McGrath is the author of the critically acclaimed biography John Barry: An American Hero in the Age of Sail. An avid sailor, McGrath has published articles in Naval History magazine. He has twice won the Commodore John Barry Book Award for his contribution to maritime literature, and has been a finalist for the Samuel Eliot Morison Award for Naval Literature.
or
Not Currently Available for Direct Purchase