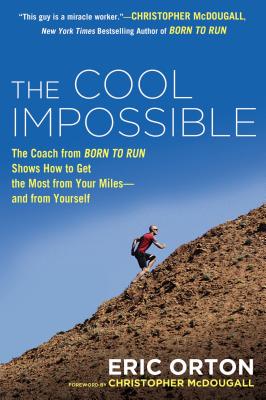 The Cool Impossible
The Coach from "Born to Run" Shows How to Get the Most from Your Miles--And from Yourself
Hardcover

* Individual store prices may vary.
Other Editions of This Title:
Digital Audiobook (1/16/2014)
Paperback (5/6/2014)
Description
Featured in the bestselling book Born to Run, coach and performance guru Eric Orton has spent a lifetime learning and thinking about running and about the limitless possibilities of the human body and mind. In The Cool Impossible, Orton shares his wealth of knowledge in an inspiring step-by-step guide that will open up a new world of achievement for runners of all levels of ability and experience.
The truth is: Athleticism is awareness. That simple phrase is at the core of The Cool Impossible. Athleticism requires awareness of form and technique, awareness of our effort level, and, most important, awareness of what we think (and don't think). And with that awareness comes the possibility of endless potential and improvement, progress and mastery--and, ultimately, achievement that you never before would have thought possible.
With a program focused on proper running form, strength development, and cardiovascular training, Orton will help first-step beginners, prime-time competitors, and enduring veterans reach "the cool impossible"--the belief that any achievement, athletic or otherwise, is within our reach. Inside you'll find:
* Foot strength exercises to catapult performance, combat injuries, and transform technique
* A total-body strength program aimed at creating an athletic running body
* Step-by-step run-form coaching for performance enhancement and lifelong healthy running
* A run-training program providing the building blocks for endurance, strength, and speed
* No-nonsense nutrition strategies for performance, health, and the ultimate running body
* Visualization and mind-training tactics to run and live the Cool Impossible
*And much more...
Natural running is about so much more than barefoot running. It's about the joy of running that we were all naturally born with and can reawaken. Like a favorite running companion, The Cool Impossible will be there with you, stride for stride and mile for mile, helping you go farther than you ever could have on your own.
Includes a foreword by Christopher McDougall
Praise For The Cool Impossible: The Coach from "Born to Run" Shows How to Get the Most from Your Miles--And from Yourself…
"This guy is a miracle worker."—Christopher McDougall, New York Times bestselling author of Born to Run
New American Library, 9780451416339, 251pp.
Publication Date: May 7, 2013
About the Author
Eric Orton's experiences with the Tarahumara and his study of running, human performance, strength, and conditioning have led him to the cutting edge of the sport and made him the go-to guy for athletes everywhere. Chris McDougall is just one of the coach's many success stories. The former fitness director for the University of Colorado Health Sciences Center, Orton now personally oversees the training of dozens of athletes, from recreational racers to elite ultramarathoners.
or
Not Currently Available for Direct Purchase