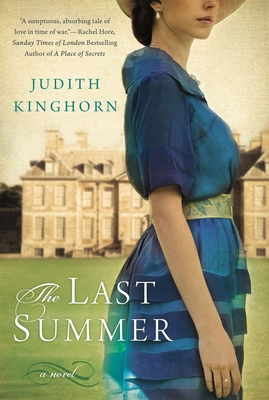 The Last Summer
Paperback

* Individual store prices may vary.
Other Editions of This Title:
Digital Audiobook (12/30/2012)
MP3 CD (12/31/2012)
Compact Disc (12/31/2012)
Compact Disc (12/31/2012)
Description
I was almost seventeen when the spell of my childhood was broken...It was the beginning of summer and, unbeknown to any of us then, the end of a belle epoque...

In July of 1914, innocent, lovely Clarissa Granville lives with her parents and three brothers in the idyllic isolation of Deyning Park, a grand English country house, where she whiles away her days enjoying house parties, country walks and tennis matches. Clarissa is drawn to Tom Cuthbert, the housekeeper's handsome son. Though her parents disapprove of their upstairs-downstairs friendship, the two are determined to see each other, and they meet in secret to share what becomes a deep and tender romance. But soon the winds of war come to Deyning, as they come to all of Europe. As Tom prepares to join the front lines, neither he nor Clarissa can envision what lies ahead of them in the dark days and years to come. Nor can they imagine how their love will be tested, or how they will treasure the memory of this last, perfect summer.
Praise For The Last Summer…
"An enchanting story of love and war, and the years beyond."—Penny Vincenzi, bestselling author of
Wicked Pleasures
"A sumptuous, absorbing tale of love in time of war."—Rachel Hore,
Sunday Times of London
bestselling author of
A Place of Secrets
"Irresistible...sensuous prose, elegant settings and fascinating characters."—Margaret Wurtele, author of
The Golden Hour
 "Well drawn characters combined with flawless writing make Kinghorn's debut a triumph. This story kept me up for many nights in a row, and I couldn't turn the pages fast enough. Un-put-downable and relentlessly intriguing, this is a tale for the ages. I expect it's not the last we'll hear from this talented story teller; at least, I hope not!"—
Dish Magazine
"A dense and luscious read that is emotionally gripping and at times unsettling, but is a powerful tale of love, regret, and both the loss of Clarissa's innocence and that of England's."—Heroes and Heartbreakers
"A wonderful and heartbreaking love story...Highly recommended!"—
One More Page
"An atmospheric and haunting read. It takes the reader from languorous summer days by the lake on a country estate to the horror of the trenches with equal aplomb...Judith Kinghorn skillfully navigates our journey through love and loss...This is the perfect balance of romance and grit by a great new writer. Don't miss it!"—
The Riddle of Writing
"Don't miss 
The Last Summer
by Judith Kinghorn. [An] epic and enthralling love story set against the backdrop of the Great War."—F anny Blake,
Woman and Home
"An enchanting read of Rachel Hore/Downton Abbey ilk, big storytelling stuff of social and political change spanning the First World War and beyond. It's a glorious read, highly recommended."—Sarah Broadhurst, The Bookseller
 
"The year is 1914 and love and war are about to transform privileged 16 year-old Clarissa's charmed existence forever. This sumptuous romance is made for fans of Downton."—The Lady Magazine
Berkley, 9780451416636, 464pp.
Publication Date: December 31, 2012
About the Author
Judith Kinghorn was born in Northumberland, educated in the Lake District, and is a graduate in English and History of Art. She lives in England with her husband and two children.
The events of The Last Summer are seen from the perspective of its heroine Clarissa. Did you enjoy seeing the story through her eyes?
". . . the end of a belle époque" is how Clarissa describes that last summer before the outbreak of the First World War. Do you agree with her?
How important is the world of Deyning Park to the novel?
Which character do you feel undergoes the most dramatic transformation in the novel?
Edina does not wish Clarissa to marry Tom because, to her, they are too far apart in social status for their relationship to work. How do you feel about this in light of the revelation at the end?
The First World War changes society irrevocably. What is the impact on the characters in the novel? How is the class system portrayed?
Clarissa and her friends' use of morphine to "produce a pause long enough to obliterate reality, suspending thought and reason" shows a darker side to their Edwardian world than we are perhaps familiar with. What was your reaction to this?
Are there parallels between Clarissa and Tom's love affair and that of the anonymous letter writers in the novel? Did you guess who the correspondents were?
Which of Clarissa's relationships do you think has the greatest impact on her life—her relationship with Tom, her mother Edina or her baby Emily?
"Moments can and do come back to us." Discuss this final statement in relation to The Last Summer.
or
Not Currently Available for Direct Purchase