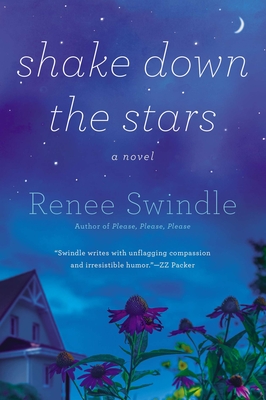 Shake Down the Stars
Paperback

* Individual store prices may vary.
Description
When you're in trouble and sinking fast, whom do you call?

Piper Nelson is stuck. She can't quite stay away from the husband she divorced. She isn't always attentive to the high school students she teaches. And even she admits that she's been drinking too much and seeking out unsuitable men. Piper's mother, married to a celebrity evangelist, and her sister, who's immersed in plans to wed a professional football player and star in a reality TV show, are both too self-absorbed to sympathize with Piper's angst. They tell her to get a grip. But how can Piper ever really recover from the blow she suffered five years ago, when a car accident took the life of her young daughter?

When Piper's ex-husband announces that his new girlfriend is pregnant, Piper is forced to take stock. Realizing that it's time for a change is one thing, but actually making it happen is quite another. And despite what she thinks, Piper can't do it alone  Lucky for her, a couple of crazy, funny new friends are ready to step in when she needs them most and show her how to live and laugh again.

CONVERSATION GUIDE INCLUDED
Praise For Shake Down the Stars…
Praise for Shake Down the Stars

"Yes, I know you hear it all the time, but get ready for an absorbing story told with a unique and compelling voice. Shake Down the Stars is a treat. Renée Swindle's writing is funny, sharp, heartbreaking, and quirky, and her non-stock characters wonderfully memorable….Enjoy the ride."—Lalita Tademy, New York Times bestselling author of Cane River and Red River

"Renée Swindle's Shake Down the Stars is a rich, savvy exploration of the many kinds of love, loss, and dysfunction that can unearth us or save us, bedevil us or deliver us…as complex and hilarious as it is surprising and lovely. Shake Down the Stars holds a mirror up to our best and worst selves, and Swindle writes with unflagging compassion and irresistible humor."—ZZ Packer, author of Drinking Coffee Elsewhere

"I love, love, love Renée Swindle's Shake Down the Stars! It's fresh and unfamiliar—which is quite the trick these days! I love the protagonist and the very unlikely yet charming love interest. The novel manages to be both light and heavy all at the same time. I cannot tell you how much I like it. Well, I can…I loved it. Seriously. One of my favorite reads of the past couple years."—Nichelle D. Tramble, author of The Dying Ground and The Last King
Berkley, 9780451416643, 352pp.
Publication Date: August 6, 2013
About the Author
Renee Swindle is the author of Please Please Please, a Blackboard bestseller.  She earned her B.A. from UC Irvine and M.F.A. in Creative Writing from San Diego State University.  She lives in Oakland, California.
What was your response to Shake Down the Stars? Did the story hold your attention and engage your emotions?
What parts of the novel made you laugh? Did any parts make you cry?
Did you ever lose sympathy for Piper because of her "acting out," and if so, when? Did she win you over again? What does the author do to help make you like her?
Have you ever before read a novel with a main character who is alcoholic? Are alcoholic women more rare in fiction than you might expect, given how many people suffer from the disease? Did you find Renee Swindle's portrait of Piper's alcoholism realistic?
Stargazing is one of the few reliable sources of emotional comfort for Piper. When you're feeling down, what sources of comfort do you turn to?
Piper's mother and sister are capable but flawed women who just can't meet Piper's needs. Piper comes to realize that she must accept the family she's got rather than the family she wishes she had. Is the same true for you and your family?
The novel includes characters from a wide range of economic backgrounds—from rich to poor, from used-to-be-poor to now-more-than-comfortably-well-off. Did you enjoy seeing rich and poor rub up against each other? How did that aspect add to the story for you?
Discuss the different approaches to Christianity described in the novel. Does one approach appeal more to you than the other? Does one seem more heartfelt and authentic?
Discuss the young people in the novel—from Piper's twin nieces, Sophia and Margot, to the students she teaches to the kids she encounters in her neighborhood. Whom did you most enjoy spending time with, and why?
You could say that Piper is saved by some new friends she makes. Discuss the sacrifices her friends make, and the role of friendship in the novel overall. Has a friend ever saved your life?
Piper is, above all, a mother grieving for her lost daughter. How central is Hailey to the novel? How does this exploration of a mother's grief compare to similar stories you might have read?
or
Not Currently Available for Direct Purchase