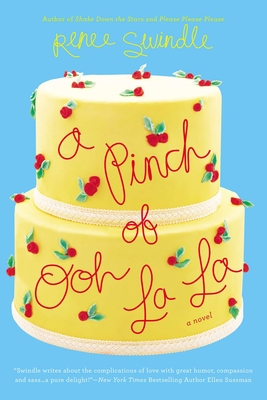 A Pinch of Ooh La La
Paperback

* Individual store prices may vary.
Other Editions of This Title:
Hardcover, Large Print (3/31/2015)
Description
To get to happily ever after, sometimes you need to start from scratch....
 
Abbey Ross, who runs her own bakery in Oakland, California, is known for her visually stunning wedding cakes. But lately, Abbey's own love life has become stale. According to her best friend, Bendrix, Abbey's not the spontaneous young woman she was when they were teenagers listening to the Cure and creating attention-grabbing graffiti. Of course, her failed relationship with a womanizing art forger might have something to do with that. Nevertheless, it's time for Abbey to step out of the kitchen—and her comfort zone—and Bendrix has even handpicked a man for her to date.
 
Samuel Howard is everything Abbey's dreamed of: handsome, successful, and looking to raise a family. But a creamy icing might be needed to hide a problem or two. When Samuel complains about disrespect for the institution of marriage, Abbey's reminded of her nontraditional family, with thirteen children from various mothers. And when Samuel rails about kids having kids, Abbey thinks of her twenty-year-old sister who's recently revealed her pregnancy.
 
Soon Abbey is facing one disaster after another and struggling to make sense of it all. Her search for love has led her down a bitter path, but with the help of her unique family and unwavering friends, she just might find the ooh la la that makes life sweet.

READERS GUIDE INCLUDED
Praise For A Pinch of Ooh La La…
Praise for A Pinch of Ooh La La
 
"Renee Swindle writes about the complications of love with great humor, compassion and sass. A Pinch of Ooh La La is a pure delight!"—Ellen Sussman, New York Times bestselling author of French Lessons and A Wedding in Provence
 
"I dare you to read Renee Swindle's delicious new novel, A Pinch of Ooh La La, without pulling out mixing bowls and scanning your music collection for the perfect jazz-fueled accompaniment. Swindle hits all the right notes with this unique and satisfying tale of love, friendship, and family."—Julie Kibler, bestselling author of Calling Me Home
 
"Touching and honest, with humor and romance in just the right measures. Swindle's novel confirms the healing power of family, and her writing sparkles with endearing characters. A fully satisfying read, A Pinch of Ooh La La left me with heaping spoonfuls of hope."—Amy Sue Nathan, author of The Glass Wives
 
"You might think you know where A Pinch of Ooh La La is going when you begin reading it, but you are in for a surprising and outrageous journey. I laughed, I nodded, I shook my head and said, 'Girl…' I could not put this book down, and when I finished, I felt like I was saying goodbye to now dear friends. I'm still missing the likable lead and her colorful family. So worth a read."—Ernessa T. Carter, author of 32 Candles and The Awesome Girl's Guide to Dating Extraordinary Men
Berkley, 9780451416650, 336pp.
Publication Date: August 5, 2014
About the Author
Renee Swindle is the author of Shake Down the Stars and Please, Please, Please. She lives in Oakland, California.
What did you most enjoy about the novel? What will you remember about it long after you've finished reading it?
In the beginning, Samuel seems so perfect that Abbey wonders why he hasn't already been snatched up. Are you willing to share your own experience of a seemingly perfect man who turned out to be not so perfect after all?
What do you think of Abbey's untraditional, extended family? Discuss the advantages and disadvantages of living in such a family. Discuss in particular what Abbey gets from her family, and why she was willing to give up living with her mother on the East Coast in order to return to her father's family.
Early on, Abbey gets one "red flag" about Samuel, but she convinces herself that his good points outweigh the negative. By the time she realizes there are significant ways in which they are incompatible, he is practically living with her. Does she jump into the relationship too fast? Or must every woman struggle with the question of how much of herself she should give up for a man?
Abbey sees Samuel's father as an authoritarian figure who maintains control of his children through intimidation and abuse, yet Samuel defends him and credits his own success with his parents' insistence on discipline and achievement. How do you see Samuel's father? What do we learn about how Bendrix achieved success, compared to Samuel?
Bendrix is Abbey's best friend, and she comes close to saying that if he were straight, he'd be a perfect romantic partner for her. Do you agree? What do you think Bendrix and Abbey have together that she doesn't have with Avery and then Samuel?
Discuss the various couples who come to Abbey to discuss wedding cakes. It might be fun to imagine which ones will stay married, and which will crash and burn.
After each failed romantic relationship, Abbey reassesses her life. Talk about what she learns, how she changes, and what about her life she comes to appreciate more fully.
For Abbey and Bendrix, tagging buildings (i.e. spraying graffiti art on them) is an act of joyous creativity as much as civil disobedience. Is some of their creativity inspired by the awareness that they're breaking the law? Does their punishment fit the crime? Did you find Abbey's arrest and community service at all funny, or were you disappointed in her?
The death of an important character spurs Abbey to take action. Discuss these events, and especially what motivates her.
At the end of the novel, Abbey seems to be headed for happiness, but the author doesn't take her all the way there. Did you find that approach satisfying?
or
Not Currently Available for Direct Purchase