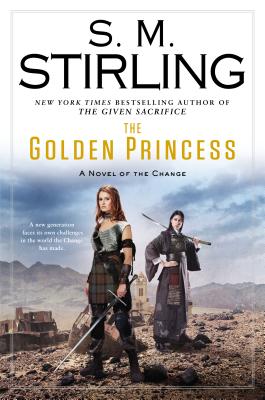 The Golden Princess (Hardcover)
Roc, 9780451417336, 420pp.
Publication Date: September 2, 2014
Other Editions of This Title:
Paperback (9/1/2015)
* Individual store prices may vary.
Description
A new generation faces its own challenges in the world the Change has made.
Princess Orlaith, heir to Rudi Mackenzie, Artos the First, High King of Montival, now wields the Sword of the Lady--and faces a new enemy. Fortunately, she also has a new ally in Reiko, Empress of Japan, who has been pursued to America by a conquering army from Asia.
To combat their mutual foe, Orlaith and Reiko embark on a quest to find the fabled Kusanagi-no-Tsurugi, the Grass-Cutting Sword, one of the three great treasures of the Japanese Imperial House. But dreams have revealed that the road to Kusanagi lies through the meganecropolis of the City of Angels, the greatest and most perilous of the dead cities...and beyond it, to a castle in the fearful Valley of Death. And their relentless enemy will stop at nothing to prevent them from succeeding.
For across the Pacific, the great arc of land that stretches from the dark kingdom of Korea to the realm of Capricornia in Australia is threatened by war. Now all the survivors of the Change must choose sides....

About the Author
S. M. Stirling is the author of many science fiction and fantasy novels, including the Novels of the Change (The Given Sacrifice, Lord of Mountains, The Tears of the Sun, The High King of Montival, The Sword of the Lady, The Scourge of God, and The Sunrise Lands).
Praise For The Golden Princess…
Praise for S.M. Stirling and his Novels of the Change
 "Absorbing."—San Diego Union-Tribune
"[A] richly realized story of swordplay and intrigue."—Entertainment Weekly
"Nobody wrecks a world better than S. M. Stirling, and nobody does a better job of showing that people remain people, with all their high points and low, in the wreckage."—Harry Turtledove, New York Times bestselling author of Supervolcano: Things Fall Apart
"Vivid…Stirling eloquently describes a devastated, mystical world that will appeal to fans of traditional fantasy as well as post-apocalyptic SF."—Publishers Weekly (starred review)
"Stirling is a perfect master of keep-them-up-all-night pacing, possibly the best in American SF, quite capable of sweeping readers all the way to the end."—Booklist (starred review)
"A highly complex fictional universe with loads of characters and political intrigue."—Kirkus Reviews
"[A] vivid portrait of a world gone insane…Full of bloody action, exposition that expands character and telling detail that makes it all seem very real."—Statesman Journal (Salem, OR)
"Stirling has blazed a clear comet trail across his post-apocalyptic landscape that illuminates both the best and the worst of which our species is capable."—Science Fiction Weekly
or
Not Currently Available for Direct Purchase