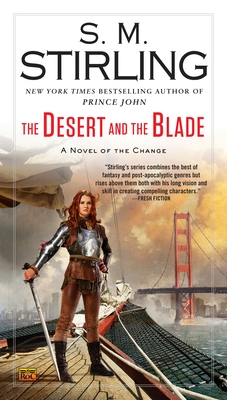 The Desert and the Blade (A Novel of the Change #12) (Paperback)
Ace, 9780451417367, 848pp.
Publication Date: September 6, 2016
Other Editions of This Title:
Hardcover (9/1/2015)
* Individual store prices may vary.
Description
In his Novels of the Change, New York Times bestselling author S.M. Stirling presents "a devastated, mystical world that will appeal to fans of traditional fantasy as well as post-apocalyptic SF" (Publishers Weekly, starred review). Continuing their quest that began in The Golden Princess, two future rulers of a world without technology risk their lives seeking a fabled blade…
 
Reiko, Empress of Japan, has allied herself with Princess Órlaith, heir to the High Kingdom of Montival, to find the Kusanagi-no-Tsurugi, the Grass-Cutting Sword, a legendary treasure of an ancient dynasty that confers valor and victory to its bearer. Órlaith understands all too well the power it signifies. Her own inherited blade, the Sword of the Lady, was both a burden and a danger to her father, Rudi Mackenzie, as it failed to save the king from being assassinated.

But the fabled sword lies deep within the Valley of Death, and the search will be far from easy. And war is building, in Montival and far beyond. 

As Órlaith and Reiko encounter danger and wonder, Órlaith's mother, Queen Mathilda, believes her daughter's alliance and quest have endangered the entire realm. There are factions both within and without Montival whose loyalty died with the king, and whispers of treachery and war grow ever louder.

And the Malevolence that underlies the enemy will bend all its forces to destroy them.
About the Author
S. M. Stirling is the author of many science fiction and fantasy novels, including the Novels of the Change (The Golden Princess, The Given Sacrifice, Lord of Mountains) and the Shadowspawn series (A Taint in the Blood, The Council of Shadows, Shadows of Falling Night). A former lawyer and an amateur historian, he lives in the Southwest with his wife, Jan.
Praise For The Desert and the Blade (A Novel of the Change #12)…
Praise for S.M. Stirling and his Novels of the Change
 
"Nobody wrecks a world better than S. M. Stirling, and nobody does a better job of showing that people remain people, with all their high points and low, in the wreckage."—Harry Turtledove, New York Times bestselling author of Joe Steele
 
"Absorbing."—San Diego Union-Tribune
 
"[A] richly realized story of swordplay and intrigue."—Entertainment Weekly