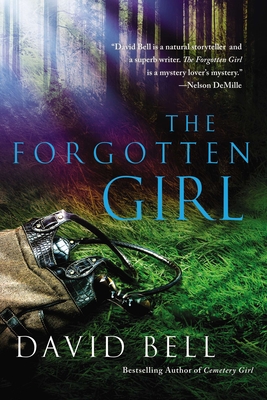 The Forgotten Girl
Paperback

* Individual store prices may vary.
Other Editions of This Title:
Digital Audiobook (10/6/2014)
Paperback (12/31/2019)
Description
The USA Today bestselling author of Somebody's Daughter and Layover presents a twist-filled thriller about a troubled family with long-buried secrets...

The past has arrived uninvited at Jason Danvers's door in the form of his younger sister, Hayden, a former addict who severed all contact with her family as her life spiraled out of control. Now she's clean and sober but in need of a desperate favor—she asks Jason and his wife to take care of her teenage daughter for forty-eight hours while she handles some business in town.

But Hayden never returns.

Her disappearance brings up more unresolved problems from Jason's past, including the abrupt departure of his best friend on the night of their high school graduation twenty-seven years earlier. When a body is discovered in the woods, the mysteries of his sister's life—and possible death—deepen. One by one these events will shatter every expectation Jason has ever had about families, about the awful truths that bind them, and the secrets that should be taken to the grave.
Praise For The Forgotten Girl…
Praise for The Forgotten Girl

"David Bell is a natural storyteller and a superb writer. The Forgotten Girl is a mystery lover's mystery."—#1 New York Times bestselling author Nelson DeMille

"The Forgotten Girl is a tightly-woven mystery...Bell has crafted an unforgettable story full of surprises. Don't miss it."—New York Times Bestselling Author J.T. Ellison
 
"David Bell writes spellbinding and gripping thrillers that get under your skin and refuse to let go. This is his best so far."—New York Times bestselling author Linwood Barclay

"David Bell has fashioned a taut gem of a mystery in The Forgotten Girl, a tale straight out of the psychological thriller territory blazed by the likes of Harlan Coben and Lisa Gardner."—Providence Journal

"Realistic glimpses of small-town America...You might want to read it the next time you're drawn back to the place you came from. It'll remind you of why you got the hell out of there in the first place."—The Washington Post 

More Praise for David Bell

"One of the brightest and best crime fiction writers of our time."—Suspense Magazine

"A master of suspense."—Midwest Book Review

"[Bell is] a bang-up storyteller, armed with enough detours and surprises to keep the pages turning."—The Cleveland Plain Dealer

"[A] page-turner....Bell does a good job exposing the seaminess underlying seemingly placid small-town life."—Publishers Weekly

Berkley, 9780451417527, 448pp.
Publication Date: October 7, 2014
About the Author
David Bell is a USA Today bestselling, award-winning author whose work has been translated into multiple foreign languages. He's currently an associate professor of English at Western Kentucky University in Bowling Green, Kentucky, where he directs the MFA program. He received an MA in creative writing from Miami University in Oxford, Ohio, and a PhD in American literature and creative writing from the University of Cincinnati. His novels include Layover, Somebody's Daughter, Bring Her Home, Since She Went Away, Somebody I Used to Know, The Forgotten Girl, Never Come Back, The Hiding Place, and Cemetery Girl.
Jason and Hayden have a strained relationship, primarily due to Hayden's struggles with addiction. Do you understand Jason's reluctance to let Hayden back into his life? Would you let her back in?
Jason seems to realize that it was difficult for Hayden to grow up in his shadow. Do you think it's challenging for younger siblings to establish their own identities as they grow up? Also, is there more pressure on an older sibling to set the tone in a family?
Sierra seems to be a bright, successful teenager despite the difficulties her parents have been through. Are you surprised by the bond between Sierra and her parents?
Jason and Regan were close friends—and almost dated—in high school and have recently reconnected. Do you understand the friendship they share even after all those years of not being in touch? Do you think Nora should be concerned about the time Jason spends with Regan? How would you feel if your spouse were Jason?
Jason and Nora made the choice not to have children, but when Sierra enters their lives, they find themselves reexamining that decision. Do you think Jason and Nora regret not having children? Can having their niece in their lives serve as some kind of a replacement?
Jason seems to be having something of a midlife crisis due to losing his job in New York and moving back to his hometown in Ohio. Is it unusual for someone at Jason's stage of life to be reevaluating this way? Do you think he's happy with the choices he's made?
Regan tells Jason that he "hero-worshipped" Logan and didn't see him clearly. What kind of person do you think Logan was? Is Regan correct when she says that Jason didn't see him clearly? What do you think is the cause of some of Logan's behavior?
Were you surprised to find out what really happened on graduation night? Are you surprised that Regan was willing to keep it a secret for so many years?
Logan's mother knew the truth about her son—both the act of violence he committed against her as well as what he did on graduation night. Was she right to keep those things secret for so many years? Do you think she could have—or should have—done something to help her son, or were the cards too stacked against her because of the influence and power of Logan's father?
Mr. Shaw seems like something of a distant and distracted father. Do you blame him for Logan's behavior? Do you think he really loved his son?
Jesse Dean was responsible for Logan's death on graduation night, and then Derrick was responsible for Jesse Dean's death in the cabin. Do you blame these men for the acts of violence they committed? Were there extenuating circumstances in one or both of the cases? How do you view the men differently? Would you want to see them prosecuted for the things they did?
When Jason returns home at the end of the book, he seems genuinely happy to see his family, including Hayden and Sierra. Do you think he has a new appreciation for his life, one he didn't have when the book started? Do you think he and Nora have found a way to be happy in Ohio?
Sierra turns out very different from her parents. And de-spite being siblings, Jason and Hayden take divergent paths in life. Do you attribute these differences to nature over nurture? Do you know people who turned out significantly different from other people in the same household?
or
Not Currently Available for Direct Purchase