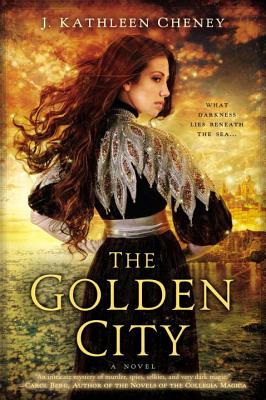 The Golden City (Paperback)
Ace, 9780451417749, 384pp.
Publication Date: November 5, 2013
Other Editions of This Title:
Mass Market (6/3/2014)
* Individual store prices may vary.
Description
For two years, Oriana Paredes has been a spy among the social elite of the Golden City, reporting back to her people, the sereia, sea folk banned from the city's shores....
 
When her employer and only confidante decides to elope, Oriana agrees to accompany her to Paris. But before they can depart, the two women are abducted and left to drown. Trapped beneath the waves, Oriana's heritage allows her to survive while she is forced to watch her only friend die.
 
Vowing vengeance, Oriana crosses paths with Duilio Ferreira—a police consultant who has been investigating the disappearance of a string of servants from the city's wealthiest homes. Duilio also has a secret: He is a seer and his gifts have led him to Oriana.
 
Bound by their secrets, not trusting each other completely yet having no choice but to work together, Oriana and Duilio must expose a twisted plot of magic so dark that it could cause the very fabric of history to come undone....
 
About the Author
J. Kathleen Cheney is a former teacher and has taught mathematics ranging from seventh grade to calculus, with a brief stint as a gifted and talented specialist. Her short fiction has been published in such venues as Fantasy Magazine and Beneath Ceaseless Skies, and her novella "Iron Shoes" was a Nebula Finalist in 2010.
Praise For The Golden City…
Praise for The Golden City:

"[A] masterpiece of historical fantasy...The fascinating mannerisms of the age and the extreme formality of two people growing fonder of each other add a charmingly fresh appeal that will cross over to romance fans as well as to period fantasy readers." --Library Journal (starred review)

"J.K. Cheney's alternate Portugal, a society of delicate manners, gaslights, and under-the-sea artworks, provides a lush backdrop for an intricate mystery of murder, spies, selkies, and very dark magic. A most enjoyable debut." --Carol Berg, author of the Novels of the Collegia Magica

"[P]ulls readers in right off the bat...Oriana's 'extra' abilities are thoroughly intriguing and readers will love the crackling banter and working relationship between Oriana and Duilio." --Romantic Times

"An ambitious debut from Cheney: part fantasy, part romance, part police procedural and part love letter to Lisbon in the early 1900s...[the author] does a lovely job connecting magical, historical and romantic elements." --Kirkus Reviews
 
or
Not Currently Available for Direct Purchase