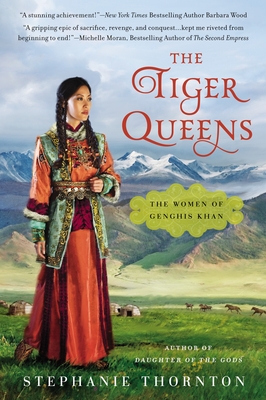 The Tiger Queens
Paperback

* Individual store prices may vary.
Description
In the late twelfth century, across the sweeping Mongolian grasslands, brilliant, charismatic Temujin ascends to power, declaring himself the Great, or Genghis, Khan. But it is the women who stand beside him who ensure his triumph....
 
After her mother foretells an ominous future for her, gifted Borte becomes an outsider within her clan. When she seeks comfort in the arms of aristocratic traveler Jamuka, she discovers he is the blood brother of Temujin, the man who agreed to marry her and then abandoned her long before they could wed.
 
Temujin will return and make Borte his queen, yet it will take many women to safeguard his fragile new kingdom. Their daughter, the fierce Alaqai, will ride and shoot an arrow as well as any man. Fatima, an elegant Persian captive, will transform her desire for revenge into an unbreakable loyalty. And Sorkhokhtani, a demure widow, will position her sons to inherit the empire when it begins to fracture from within.

In a world lit by fire and ruled by the sword, the tiger queens of Genghis Khan come to depend on one another as they fight and love, scheme and sacrifice, all for the good of their family...and the greatness of the People of the Felt Walls.
Praise For The Tiger Queens…
Praise for The Tiger Queens
"A gripping epic…Kept me riveted from beginning to end!"—Michelle Moran, bestselling author of The Second Empress
 
"It is a testament to Thornton's writing prowess that she can so intricately whittle heroines that are both compassionate and ruthless…a stunning achievement!"—Barbara Wood, New York Times bestselling author of The Serpent and the Staff and Rainbows on the Moon
 
"Be prepared to be swept away by Thornton's richly drawn epic of an empire."—Renée Rosen, author of Dollface and What the Lady Wants
 
"Historical fiction at its best."—Gary Corby, author of The Marathon Conspiracy
 
"A vivid depiction of warrior women…Gripping stuff!"—Alex Rutherford, author of the Empire of the Moghul series

Praise for the novels of Stephanie Thornton
"Thornton's heroines...make me want to stand up and cheer!"—Kate Quinn, author of Lady of the Eternal City                                                                                                                                    
"This is the kind of book that grabs you by the throat and doesn't let go. A remarkable story, remarkably told." —Kate Furnivall, author of Shadows on the Nile and The Russian Concubine

"Well-conceived and engrossing...exalts a historical figure of 'true grit.'"—Library Journal
 
"Exquisitely crafted....I couldn't put it down."—San Francisco Book Review
Berkley, 9780451417800, 496pp.
Publication Date: November 4, 2014
About the Author
Stephanie Thornton is the author of The Secret History and Daughter of the Gods. She is also a history teacher who has been obsessed with infamous women from ancient history since she was twelve. She lives with her husband and daughter in Alaska, where she is at work on her next novel.
What did you most enjoy about the novel? Did any one of the four female narrators appeal to you more than the others?
Genghis obviously cares for Borte, despite leaving her to be kidnapped and marrying several other women. How does their love change throughout the book?
Many of the women in this book—Borte, Alaqai, Toregene, and Sorkhokhtani—are mothers. Who is the best mother, and why?
Shigi and Boyahoe discover Fatima in an act that could be viewed as madness, painting calligraphy in blood around her husband's and father's bodies. What is the difference between her and Oghul Ghaimish, who falls so quickly into madness after enduring the rape of the Oirat girls?
By the end of the book, each of these women has endured unspeakable tragedies. What traits do they have that allow them to survive—and sometimes flourish—during times of such terrible violence?
Many of the women in the novel survive by using careful strategy in reacting to particularly dangerous situations. Compare how Toregene, Alaqai, and Sorkhokhtani react to the most dangerous situations they face.
Fatima makes a fateful decision to stay with the dying Toregene rather than escape to safety with Alaqai. Why do you think she makes this choice? Is she fully conscious of all that she is risking?
Discuss some of the ways in which the women in the novel—even the minor characters–support and honor each other. How do they betray each other?
What do you expect you'll remember about the novel long after you've finished reading it?
or
Not Currently Available for Direct Purchase