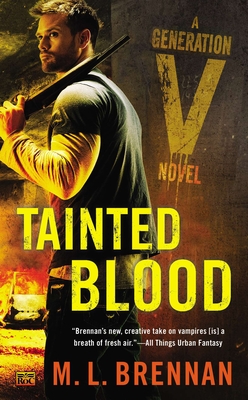 Tainted Blood (Generation V #3) (Mass Market)
Ace, 9780451418425, 320pp.
Publication Date: November 4, 2014
* Individual store prices may vary.
Description
In the third Generation V novel, Fortitude Scott proves that working with family can be deadly…

Former film student Fortitude Scott is finally gainfully employed. Unfortunately, said employment happens to be with a group of sociopathic vampires—his family. And as much as Fort is loath to get too deep into the family business, when his brother, Chivalry, is temporarily unable to run the territory, it's up to Fort to keep things under control.

So when the leader of a powerful faction of shifters turns up murdered, Fort finds himself tracking down a killer while navigating dangerous rivalries, longtime grudges, and hidden agendas. Even with the help of his foxy kitsune sidekick, Suzume, he'll need to pull out all the stops to hunt for the paranormal assassin.

But as he calls on fairies, witches, and ghouls for help, he discovers that the problem is much bigger than a single dead werebear. The supernatural community is preparing for a massive shift in power within the Scott family leadership—and Fort has landed right in the middle of the gathering storm.…
About the Author
M. L. Brennan lives in Connecticut with her husband and three cats. Holding a master's degree in fiction, she teaches basic composition to college students. After spending years writing and publishing short work in other genres, Brennan decided to branch out and write the kind of book that she loved to read, resulting in the Generation V series, including Generation V, her first full-length work of urban fantasy, Iron Night, and Tainted Blood.
Praise For Tainted Blood (Generation V #3)…
Praise for the Generation V Novels

"A funny, refreshing urban fantasy tale.… Geek-inspired humor and unexpectedly sympathetic characters (particularly the deadly Madeline) help make this a novel worth reading."—Publishers Weekly 

"Engrossing and endearingly quirky, with a creative and original vampire mythos, it's a treat for any urban fantasy lover!"—New York Times bestselling author Karen Chance

"Full of vivid characters and terrific world building...A fun, fast-paced romp of a story that kept me glued to the pages to the very last word. Loved it! Bravo, M. L. Brennan, bravo!"—National bestselling author Devon Monk

"A strong debut with a lot of heart, with an interesting take on the vampire mythos…unexpectedly awesome."—SF Signal

"A quirky, humorous new urban fantasy series… rife with mystery, suspense, and a cast of eccentric characters that will have you laughing and rolling your eyes at their antics. A clever mix of dark humor and seriousness."—Smexy Books