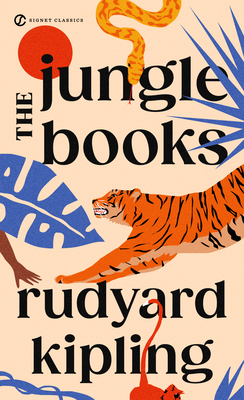 The Jungle Books (Mass Market)
Signet, 9780451419187, 384pp.
Publication Date: August 6, 2013
Other Editions of This Title:
Paperback (1/19/2015)
Paperback (9/1/2004)
Paperback (8/10/2013)
Paperback (7/4/2016)
Paperback (5/2/2016)
Paperback (10/10/2018)
Paperback (7/20/2016)
Paperback (4/4/2010)
Paperback (4/24/2016)
Paperback (12/4/2014)
Paperback (1/6/2012)
Paperback (8/12/2012)
Paperback (5/19/2016)
Paperback (11/2/2013)
Paperback (3/23/2016)
Paperback (3/31/2016)
Paperback (4/20/2009)
Paperback (6/8/2016)
Paperback (11/13/2015)
* Individual store prices may vary.
Description
Rudyard Kipling's beloved collection of short stories about a boy raised by wolves who learns the Laws of the Jungle.

Mowgli, lost in the deep jungle as a child, is adopted into a family of wolves. Hunted by Shere Khan, the Bengal tiger, Mowgli is allowed to run with the wolf pack under the protection of Bagheera, the black panther, and Baloo, the brown bear who teaches wolf cubs the Laws of the Jungle. Through his many adventures, Mowgli evolves from a man-cub to a just and compassionate human being who at last returns to join—perhaps to lead—his own kind.

W. Somerset Maugham calls Kipling "our greatest short story writer," and in The Jungle Books, he says, Kipling's "great and varied gifts find their most brilliant expression." His most famous work effortlessly captures the imagination and has inspired beloved film adaptations, including Disney's The Jungle Book, as well as readers the world over. 

With an Introduction by Alberto Manguel
and an Afterword by Alev Lytle Croutier
About the Author
Rudyard Kipling (1865–1936) was born in Bombay, the son of an Anglo-Indian professor of architectural sculpture. There he was brought up in the care of "ayahs," or native nurses, who taught him Hindustani and the native lore that always haunted his imagination and can be seen reflected in The Jungle Books. At the age of six, he was sent to England. At twelve, he was sent to a school at Westward Ho!, the scene of Stalky & Co. In 1883, he returned to India and embarked on a career in journalism, writing the news stories as well as the tales and ballads that began to make his reputation. After seven years, he went back to England, the literary star of the hour. He married an American and stayed in Vermont off and on from 1892 to 1894. Then he returned to the English countryside, where he remained, except for a few trips abroad, for the rest of his life. The author of innumerable stories and poems, Rudyard Kipling is best known for Soldiers Three (1888), The Light That Failed (1890), The Jungle Books (1894–95), Captains Courageous (1897), Stalky & Co. (1899), Kim (1901), and Just So Stories (1902). Among many other honors, he received the Nobel Prize for Literature in 1907.

Alberto Manguel is a Canadian citizen born in Buenos Aires who settled in France. He is a member of the Canadian Writers' Union, PEN, and a fellow of the Guggenheim Foundation, and he has been named an Officer of the French Order of Arts and Letters. He holds honorary doctorates from the University of Liège in Belgium and the Anglia Ruskin University, Cambridge, England. He has been the recipient of numerous prizes, including the Prix Médicis essay prize (France) for A History of Reading, the McKitterick prize (England) for his novel News from a Foreign Country Came, and the Grinzane Cavour prize (Italy) for A Reading Diary. He also won the Germán Sánchez Ruipérez Prize (Spain) and the Prix Roger Caillois prize (France) for the ensemble of his work, which has been translated into more than thirty languages.

Alev Lytle Croutier, whose books have been translated into twenty-one languages, is the only woman novelist from Turkey to be published extensively worldwide. She is the author of the international bestseller Harem: The World Behind the Veil, novels such as The Palace of Tears and Seven Houses and, for young readers, American Girl's Leyla: The Black Tulip. The founding editor and editor-in-chief of Mercury House publishing company, she lectures frequently at universities, museums, and conferences.
Praise For The Jungle Books…
"Kipling knew something of the things which are underneath, and of the things which are beyond the frontier."—T. S. Eliot