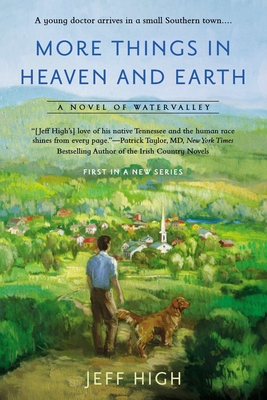 More Things in Heaven and Earth
A Novel of Watervalley
Paperback

* Individual store prices may vary.
Other Editions of This Title:
Digital Audiobook (9/30/2013)
Compact Disc (2/5/2016)
MP3 CD (10/7/2014)
Description
FIRST IN A NEW SERIES!

Tucked away in the rolling Tennessee countryside is the charming community of Watervalley, whose inhabitants are quirky and captivating and more surprising than you might expect…

As an ambitious young doctor with a penchant for research, Luke Bradford never wanted to set up practice in a remote rural town. But to pay back his student loans and to fulfill a promise from his past, he heads for Watervalley, Tennessee—and immediately stumbles into one disaster after another.  Will he be labeled the town idiot before he's even introduced as the new doctor? 

Very quickly he faces some big challenges—from resuscitating a three-hundred-pound farmer who goes into cardiac arrest to not getting shot by a local misanthrope for trespassing. He expects the people of Watervalley to be simple, but finds his relationships with them are complicated, whether he's interacting with his bossy but devout housekeeper, the attractive schoolteacher he consistently alienates, or the mysterious kid next door who climbs trees while wearing a bike helmet. 

When a baffling flu epidemic hits Watervalley, Luke faces his ultimate test. Whether the community embraces him or not, it's his responsibility to save them. And he'll soon discover that while living in a small town may not be what he wants, it may be just what he needs…

READERS GUIDE INCLUDED

For stories, recipes, and anecdotes from your favorite Watervalley characters, visit watervalleybooks.com.
Praise For More Things in Heaven and Earth: A Novel of Watervalley…
"Told through the eyes of Dr. Luke Bradford, a newly minted MD, the story of the little town of Watervalley, Tennessee, and its inhabitants comes vividly to life. Jeff High's medical background gives him that cutting edge in the technical details of his tale and his love of his native Tennessee and the human race shines from every page. Dr. Fingal Flahertie O'Reilly is delighted to welcome Luke, a TransAtlantic colleague to be fiercely proud of." —Patrick Taylor, MD, New York Times bestselling author of the Irish Country Doctor novels.

"The best of small-town Americana and the eccentrics who live there are brought to life in More Things in Heaven and Earth. This story warmed me, made me laugh and then kept a smile on my face. It's delightful, compassionate, humorous, tightly woven. If you're looking for a feel-good read, spend an afternoon with Jeff High's novel." —Charles Martin, New York Times bestselling author of Unwritten and When Crickets Cry

"A well-spun story of the mystery and microcosm that is small-town America. Jeff High skillfully captures the healing places, the hurting places, and the places where we so often find out who we are truly meant to be." —Lisa Wingate, National Bestselling Author of Tending Roses and The Prayer Box

"One of the best books I've read in years. Really. And I read a bunch of books. This is the book you should give to your mother and your best friend at Christmas. After you read it yourself, of course…High has a gift for capturing the humor of small town life…The novel sparkles with one-liners…. I fell in love with Watervalley and its citizens." —Southern Literary Review
Berkley, 9780451419262, 368pp.
Publication Date: October 1, 2013
About the Author
After growing up on a farm in rural Tennessee, Jeff High attained degrees in literature and nursing.  He is the three-time winner, in fiction and poetry, of an annual writing contest held by Vanderbilt Medical Center. He lived in Nashville for many years, and throughout the country as a travel nurse, before returning to his original hometown, near where he now works as an operating room RN in open-heart surgery.
What do you think you will best remember about this book six months from now?
Luke Bradford feels like a misfit in Watervalley. Are there concrete reasons for that, or does his attitude color his perceptions? How do his thoughts and feelings about the town change over the course of the novel?
Discuss how Luke's past has shaped him. In honoring the wishes of his family, is he hopelessly old-fashioned and out of touch with the times? Or do you think he is a model and more people should follow his example?
Who is your favorite character, and why?
Connie Thompson is starchy and dignified on the outside but has a heart of gold on the inside. Have you ever known someone like her?
John Harris has allowed his anger at the townspeople to drive him into seclusion. Do you find his turnaround at the end convincing? Why or why not?
Discuss Will Fox—the challenges he faces at home, his computer hacking, and how Luke and others in town resolve these issues. Do you know kids who are troubled, or in trouble? How have their problems been resolved, and what does that suggest about the communities they live in?
Discuss the miracle that saves Hoot Wilson's life. Have you ever experienced a real-life medical miracle?
Have you ever lived in a small town? How does that experience compare to life in Watervalley?
What makes Watervalley Southern? How might a small town in New England, the Midwest, or the West differ?
How does Jeff High's Watervalley series compare to other series you might have read, such as Patrick Taylor's Irish Country series or James Herriot's veterinarian series?
The flu of 1918 plays an important role in the story. Unlike the original epidemic, which killed millions around the world, everyone who becomes sick in Watervalley recovers. Discuss why that is. Can we depend on medical advances to prevent such loss of life in the future?
or
Not Currently Available for Direct Purchase