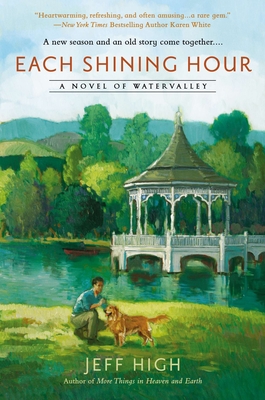 Each Shining Hour (A Novel of Watervalley #2)
Paperback

* Individual store prices may vary.
Description
 Welcome to the timeless charms of small-town Watervalley, Tennessee—where young Dr. Luke Bradford is beginning to feel at home…

When he comes to the aid of a woman at the grocery store, Luke is fascinated to learn she is Estelle Pillow, the cheery sister to his prickly housekeeper, Connie. Estelle wants to open a bakery in town—and Connie's disapproval of the venture stirs up a whirlwind of emotions between the siblings. But Luke's attention is soon diverted when he learns about a long-ago double murder.…

During World War II, an unknown traveler arrived in town, and before the day was over, he and the local baker lay dead near the bandstand at the local lake. The incident has since been exaggerated into Watervalley lore—with the newcomer rumored to have been a German spy. As Luke pieces together exactly what happened, he realizes that the consequences of this event have rippled painfully into the lives of townsfolk he has come to know.

As winter gives way to spring, Luke keeps busy at the medical clinic and enters a tentative, exhilarating romance. And when his support of Estelle's bakery collides with new revelations about the old murder, Luke witnesses the true power of reconciliation working in the hearts of those he holds dear—a revelation that will change his life.

READERS GUIDE INCLUDED
Praise For Each Shining Hour (A Novel of Watervalley #2)…
Praise for Each Shining Hour

"Heart-warming, refreshing, and often amusing, this touching novel about a likable yet conflicted new doctor sent to a rural Tennessee town is a rare gem."—New York Times bestselling author Karen White

"A young doctor, marking time until he can leave a somnolent farm town for the bustle of a big city, finds more excitement in Watervalley than he bargained for…Each Shining Hour kept me reading far into the night hours!"—New York Times bestselling author Ann B. Ross

"Heartwarming and tender, Each Shining Hour is a bright and lovely story."—Lynne Branard, author of The Art of Arranging Flowers

Praise for More Things in Heaven and Earth, the first Watervalley novel

"[Jeff High's] love of his native Tennessee and the human race shines from every page." —Patrick Taylor, MD, New York Times Bestselling Author of the Irish Country Novels

"The best of small-town Americana…this story warmed me, made me laugh, and then kept a smile on my face." —Charles Martin, New York Times Bestselling Author of Unwritten and When Crickets Cry 

"One of the best books I've read in years…High has a gift for capturing the humor of small town life… [of] the joy and richness of living where your family has sunk roots deep into the soil. As I read this novel, I fell in love with Watervalley and its citizens." —Southern Literary Review
 
Berkley, 9780451419279, 432pp.
Publication Date: October 7, 2014
About the Author
After growing up on a farm in rural Tennessee, Jeff High attained degrees in literature and nursing. He is the three-time winner, in fiction and poetry, of an annual writing contest held by Vanderbilt Medical Center. He lived in Nashville for many years, and throughout the country as a travel nurse, before returning to his original hometown, near where he now works as an operating room RN in open-heart surgery. He is the author of the first Watervalley Novel, More Things In Heaven and Earth.
What did you enjoy most about Each Shining Hour? What do you think you'll remember best about it?
Talk about what in the book made you laugh. Did anything make you cry?
Who is your favorite character, and why?
Several characters find redemption in this book, or are on the way to finding it. Who are they, and how do they discover it?
How does life in Watervalley differ from where you live? How is it similar?
Discuss Luke's courtship of Christine Chambers. What do you like about it? In what ways is theirs a modern relationship and in what ways is it old-fashioned?
Discuss Connie Thompson's relationship with Luke, her sister Estelle, John Harris, and Randall Simmons. What do we learn about her in this book that fills in some of her background? Is her trepidation at the bank inconsistent with the strength she shows at other times?
Luke is bequeathed a vintage Austin Healey. Have you ever received something valuable through an inheritance or bequest? What was it? What effect did it have on your life?
Oscar Fox's reputation was unfairly maligned for decades because of ignorance and misunderstanding. Discuss how that affected his descendants, and other people in town, and how their lives might change once the truth is revealed. Discuss those who worked to bring the truth to light, and what forces opposed their efforts.
What appeals to you about life in Watervalley? Can those qualities be replicated in your own community? Why or why not?
What do you think will happen in the next book? What do you want to happen?
or
Not Currently Available for Direct Purchase