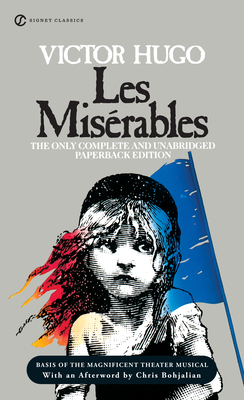 Les Miserables
Mass Market

* Individual store prices may vary.
Other Editions of This Title:
Digital Audiobook (6/23/2011)
Digital Audiobook (10/26/2009)
Digital Audiobook (10/26/2009)
Digital Audiobook (9/16/2008)
Digital Audiobook (5/22/2017)
Paperback, French (11/9/2020)
Paperback, French (11/9/2020)
Paperback, French (11/9/2020)
Paperback (4/16/2013)
Paperback (4/19/2011)
Paperback (5/1/2018)
Mass Market (5/1/2005)
Paperback (12/19/2012)
Paperback (12/3/2012)
Description
NOW A SIX-PART MINISERIES ON MASTERPIECE ON PBS

The only completely unabridged paperback edition of Victor Hugo's masterpiece—a sweeping tale of love, loss, valor, and passion.

Introducing one of the most famous characters in literature, Jean Valjean—the noble peasant imprisoned for stealing a loaf of bread—Les Misérables ranks among the greatest novels of all time. In it, Victor Hugo takes readers deep into the Parisian underworld, immerses them in a battle between good and evil, and carries them to the barricades during the uprising of 1832 with a breathtaking realism that is unsurpassed in modern prose.

Within his dramatic story are themes that capture the intellect and the emotions: crime and punishment, the relentless persecution of Valjean by Inspector Javert, the desperation of the prostitute Fantine, the amorality of the rogue Thénardier, and the universal desire to escape the prisons of our own minds. Les Misérables gave Victor Hugo a canvas upon which he portrayed his criticism of the French political and judicial systems, but the portrait that resulted is larger than life, epic in scope—an extravagant spectacle that dazzles the senses even as it touches the heart.
 
Translated by Lee Fahnestock and Norman Macafee, based on the classic nineteenth-century Charles E. Wilbour translation
 
Inlcudes an Introduction by Lee Fahnestock
and an Afterword by Chris Bohjalian
Praise For Les Miserables…
"Hugo's genius was for the creation of simple and recognizable myth. The huge success of Les Misérables as a didactic work on behalf of the poor and oppressed is due to his poetic and myth-enlarged view of human nature."—V. S. Pritchett
Signet, 9780451419439, 1488pp.
Publication Date: October 1, 2013
About the Author
Victor Hugo (1802–1885) was the son of a high-ranking officer in Napoleon Bonaparte's Grand Army. A man of literature and politics, he participated in vast changes as France careened back and forth between empire and more democratic forms of government. As a young man in Paris, he became well-known and sometimes notorious for his poetry, fiction, and plays. In 1845, the year that he began writing his masterwork, Les Misérables, the king made him a peer of France, with a seat in the upper legislative body. There he advocated universal free education, general suffrage, and the abolition of capital punishment. When an uprising in 1848 ushered in a republic, he stopped writing Les Misérables and concentrated on politics. But in 1851, when the president proclaimed himself emperor, Hugo's opposition forced him into a long exile on the British Channel Islands. There, in 1860, he resumed work on Les Misérables, finishing it the next year. With the downfall of the emperor in 1870, Hugo returned to France, where he received a hero's welcome as a champion of democracy. At his death in 1885, two million people lined the streets of Paris as his coffin was borne to the Pantheon. There he was laid to rest with every honor the French nation could bestow.