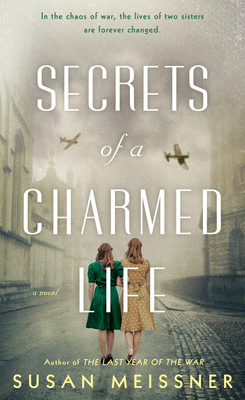 Secrets of a Charmed Life
Paperback

* Individual store prices may vary.
Other Editions of This Title:
Digital Audiobook (2/2/2015)
Compact Disc (2/3/2015)
Description
The author of A Bridge Across the Ocean and The Last Year of the War journeys from the present day to World War II England, as two sisters are separated by the chaos of wartime...

Current day, Oxford, England. Young American scholar Kendra Van Zant, eager to pursue her vision of a perfect life, interviews Isabel McFarland just when the elderly woman is ready to give up secrets about the war that she has kept for decades...beginning with who she really is. What Kendra receives from Isabel is both a gift and a burden—one that will test her convictions and her heart.

1940s, England. As Hitler wages an unprecedented war against London's civilian population, hundreds of thousands of children are evacuated to foster homes in the rural countryside. But even as fifteen-year-old Emmy Downtree and her much younger sister Julia find refuge in a charming Cotswold cottage, Emmy's burning ambition to return to the city and apprentice with a fashion designer pits her against Julia's profound need for her sister's presence. Acting at cross purposes just as the Luftwaffe rains down its terrible destruction, the sisters are cruelly separated, and their lives are transformed...
Praise For Secrets of a Charmed Life…
Praise for Secrets of a Charmed Life
 
"Rich with vividly drawn characters, places, and events...It's themes of reinvention and redemption will strike a chord with readers."—Booklist
 
"Simply told, yet powerful in its depth...This vivid, well-researched story, depicting the horrors of the Blitz, the beauty of the countryside and the heartbreak and loss of a loved one will remain in your mind long after it ends."—RT Book Reviews
 
"This story of choices and consequences takes readers on a heartrending journey through war-torn London, the quiet Cotswolds and far-off America...[An] impressive and emotional novel."—Historical Novel Society
 
"With vivid storytelling and lovely prose, Meissner weaves a story, told from three perspectives, of World War II and present day seamlessly."—Open Book Society
Berkley, 9780451419927, 416pp.
Publication Date: February 3, 2015
About the Author
Susan Meissner is a former managing editor of a weekly newspaper and an award-winning columnist. She is the award-winning author of The Last Year of the War, A Bridge Across the Ocean, Secrets of a Charmed Life, A Fall of Marigolds, and Stars Over Sunset Boulevard, among other novels.
What did you enjoy most about Secrets of a Charmed Life? What do you think will stay with you?
Would you describe the novel as a story about sisters or a story about mothers and daughters?
Discuss the secrets that the characters keep from one another. What fact does Annie hide from her daughters? What do Emmy and Julia not tell the men they eventually marry? What does Charlotte keep to herself, and when does she finally reveal the truth? Can you think of even more secrets in the novel?
How is this book different from other books you've read about World War Two?
Describing Emmy, Susan Meissner writes in the novel, "She stood at a crossroads, half-aware that her choice would send her down a path from which there could be no turning back. But instead of two choices, she saw only one—because it was all she really wanted to see . . ." Has there ever been a time when you couldn't see the other choices open to you?
Later in her life Julia writes in her journal: "Fear does not start to fade until you take the step that you think you can't." Do you agree? What is Julia afraid of when she writes this?
How similar or dissimilar are Emmy and her mother? Does Emmy have an accurate view of the kind of person her mother is?
Isabel tells Kendra that there are no secrets to a charmed life. There is only the task of forgiving ourselves for being able to make only our own choices, and no one else's. What do you think she means by this?
What do the sketches of brides' dresses represent to Emmy?
What are Emmy's reasons for choosing to remain Isabel throughout her adult life? Would you have done the same?
Did you find the novel ultimately uplifting and inspiring? Why, or why not?
On one level, the novel is about losing something very precious. What's the most precious thing you've ever lost? What were the consequences?
Have you ever lived through a time of war, or of social chaos? It might have been a major life-threatening event, or merely an unsettling situation. Would you like to share your experience? How does it compare to what Emmy and Julia go through?