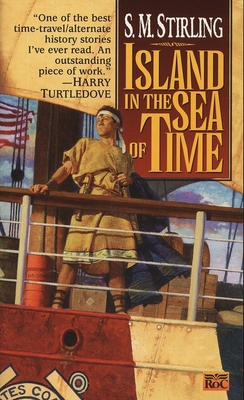 Island in the Sea of Time (Mass Market)
Ace, 9780451456755, 608pp.
Publication Date: March 1, 1998
Other Editions of This Title:
MP3 CD (10/1/2008)
Compact Disc (10/1/2008)
Compact Disc (10/1/2008)
Pre-Recorded Audio Player (9/1/2009)
* Individual store prices may vary.
Description
"Utterly engaging...a page-turner that is certain to win the author legions of new readers and fans."—George R. R. Martin, author of A Game of Thrones

It's spring on Nantucket and everything is perfectly normal, until a sudden storm blankets the entire island. When the weather clears, the island's inhabitants find that they are no longer in the late twentieth century...but have been transported instead to the Bronze Age! Now they must learn to survive with suspicious, warlike peoples they can barely understand and deal with impending disaster, in the shape of a would-be conqueror from their own time.
About the Author
S. M. Stirling is the author of numerous novels, both on his own and in collaboration. A former lawyer and an amateur historian, he lives in the Southwest with his wife, Jan.
Praise For Island in the Sea of Time…
"Utterly engaging. This is unquestionably Steve Stirling's best work to date, a page-turner that is certain to win the author legions of new readers and fans."—George R. R. Martin, author of
A Game of Thrones
"A perfectly splendid story…endlessly fascinating…solidly convincing."—Paul Anderson
"A compelling cast of characters…a fine job of conveying both a sense of loss and hope."—Science Fiction Chronicle
"[Q]ite a good book…definitely a winner."—Aboriginal Science Fiction
"Meticulous, imaginative….Logical, inventive and full of richly imagined characters, this is Stirling's most deeply realized book yet."—Susan Shwartz, author of The Grail of Hearts
"One of the best time travel/alternative history stories I've ever read, period. Stirling combines complex, believable characters, meticulous research, and a fascinating setup to produce a book you won't want to—and won't be able to—put down. An outstanding piece of work."—Harry Turtledove
"The adventure that unfolds, powered by Stirling's impressive stores of knowledge and extraordinary narrative skill, is an enormously entertaining read."—Virtual North Woods Website