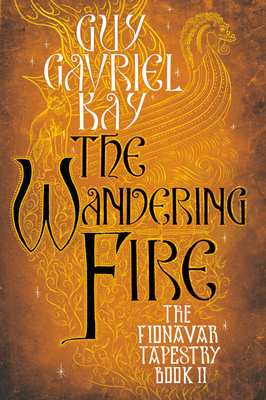 The Wandering Fire (Paperback)
Roc, 9780451458261, 375pp.
Publication Date: May 8, 2001
Description
The Wandering Fire
is the second novel of Guy Gavriel Kay's critically acclaimed fantasy trilogy,
The Fionavar Tapestry
. A mage's power has brought five university students from our world into a realm where an ancient evil has freed itself from captivity to wreak revenge on its enemies...
The ice of eternal winter has reached out to enshroud Fionavar, the first of all worlds. For the Unraveller has broken free after millennia enchained--and now his terrible vengeance has begun to take its toll on mortals and immortals, mages and warriors, dwarves and the lios alfar, the Children of Light.
Only five men and women of our own world, brought by magic across the Tapestry of worlds to the very heart of the Weaver's pattern, can hope to wake the allies they so desperately need. Yet none can foretell whether even these beings out of legend have the power to shatter the Unraveller's icy grip of death upon the land...
About the Author
Guy Gavriel Kay is an internationally bestselling author. He has been awarded the International Goliardos Prize for his work in the literature of the fantastic, is a two-time winner of the Aurora Award, and won the 2008 World Fantasy Award for Ysabel. His works have been translated into twenty-five languages.
Praise For The Wandering Fire…
Praise for The Fionavar Tapestry

"A remarkable achievement…the essence of high fantasy." —Locus

"Certainly this is one of the very best of the fantasies which have appeared since Tolkien, and I trust it will be recognized as such." Andre Norton

"Kay has delivered such a magnificent…volume that I can't praise it enough. The Fionavar Tapestry is a work that will be read for many years to come. It is a book that makes one proud to be working in the same genre as its author." —Charles de Lint

"I'm overwhelmed…The Summer Tree is one of those books that change your perception of the world forever afterward." —Marion Zimmer Bradley

"Kay's intricate Celtic background will please fantasy buffs…in the manner of The Silmarillion, the posthumous Tolkien work that Kay helped edit." —Publishers Weekly

"Immense scale, literary richness and dazzling heroes." —Toronto Star
Advertisement