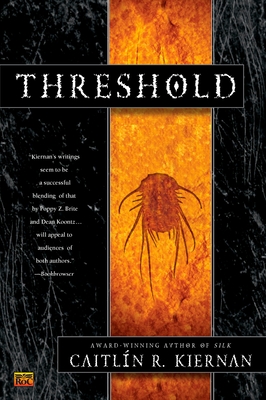 Threshold (Paperback)
Ace Books, 9780451458582, 272pp.
Publication Date: November 6, 2001
* Individual store prices may vary.
or
Not Currently Available for Direct Purchase
Description
Chance Matthews has suffered enough tragedies. The latest
--
her grandfather's death
--
has left her shaken, convinced that she will always be alone. What she needs now is time
--
time to recover, time to determine what her future will be.
What she doesn't need is a strange girl with alabaster skin who knows things about Chance she can't possibly know.
This girl speaks of being charged by an angel to battle monsters and claims she cannot do it alone. She says she needs Chance's help.
Chance doesn't believe in angels. Or monsters. But among the artifacts left by her geologist grandparents, there lies a fossil of a creature that couldn't possibly have ever existed.
But it did.
And still does...
About the Author
Caitlin R. Kiernan is the author of nine novels, including Silk, Threshold, Low Red Moon, Murder of Angels, Daughter of Hounds, and The Red Tree. Her award-winning short fiction has been collected in six volumes, including Tales of Pain and Wonder; To Charles Fort, With Love; Alabaster; and, most recently, A is for Alien. She has also published two volumes of erotica, Frog Toes and Tentacles and Tales from the Woeful Platypus. Trained as a vertebrate paleontologist, she currently lives in Providence, Rhode Island.
Advertisement