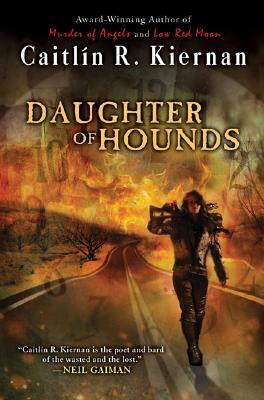 Daughter of Hounds (Paperback)
Ace, 9780451461254, 448pp.
Publication Date: January 2, 2007
* Individual store prices may vary.
Description
They are the Children of the Cuckoo. Stolen from their cribs and concealed in shadows to be raised by ghouls, they are now changelings in service to the creatures who rule the world Below and despise the world Above. Any human contact is strictly forbidden and punishment is swift and severe for those who disobey.

Raised by her widower father, Emmie Silvey has a precocious personality and striking yellow eyes that have left her a solitary child. But that changes when two women enter her life-one who stalks her, one who haunts her dreams- both insisting that her entire life is a lie and warning her of an encroaching darkness.
About the Author
Caitlin R. Kiernan is the author of nine novels, including Silk, Threshold, Low Red Moon, Murder of Angels, Daughter of Hounds, and The Red Tree. Her award-winning short fiction has been collected in six volumes, including Tales of Pain and Wonder; To Charles Fort, With Love; Alabaster; and, most recently, A is for Alien. She has also published two volumes of erotica, Frog Toes and Tentacles and Tales from the Woeful Platypus. Trained as a vertebrate paleontologist, she currently lives in Providence, Rhode Island.
Praise For Daughter of Hounds…
"Caitlín Kiernan is the poet and bard of the wasted and the lost."—Neil Gaiman
 
"Caitlín R. Kiernan is an original."—Clive Barker
 
"Caitlín R. Kiernan draws her strength from the most honorable of sources, a passion for the act of writing."—Peter Straub
 
"Caitlín R. Kiernan writes like a Gothic cathedral on fire."—Poppy Z. Brite

"Breathtaking…This is possibly Kiernan's best novel yet."—Locus

"A pretty explosive and captivating read. Highly recommended."—Green Man Review
 
"An effective mix of atmosphere and action."—Publishers Weekly
 
"Caitlín R. Kiernan pays homage to Lovecraft in the scary Daughter of Hounds. There is a sense of the foreboding gothic that creeps out the audience and the antagonists who set much of the pace seem freaky and deadly. . . . a suspense laden tale that keeps readers' attention."—Midwest Book Review
or
Not Currently Available for Direct Purchase