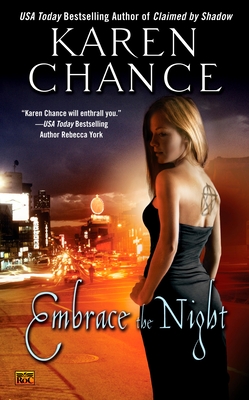 Embrace the Night (Cassie Palmer #3) (Paperback)
Ace, 9780451461995, 400pp.
Publication Date: April 1, 2008
* Individual store prices may vary.
Description
View our feature on Karen Chance's Embrace the Night.
Cassandra Palmer may be the world's chief clairvoyant, but she's still magically bound to a master vampire. Only an ancient book called the Codex Merlini possesses the incantation to free Cassie-but harnessing its limitless power could endanger the world...

Read Karen Chance's posts on the Penguin Blog.
About the Author
Karen Chance has lived in France, the United Kingdom and Hong Kong, but always comes back to America. She currently lives in Central Florida, the home of make-believe, which may explain a lot.
Praise For Embrace the Night (Cassie Palmer #3)…
"Returning from Touch the Dark and Claimed by Shadow, Cassie Palmer has finally become Pythia, the supernatural community's all-knowing oracle. She's struggling with her new powers (such as shifting back and forth through time) and is stuck between good and evil factions of the paranormal community. Her main concern, though, is to figure out how to reverse a pesky spell that threatens her independence: the geis, once placed on her for protection, is now trying to bind her to the handsome master vampire, Mircea, with results detrimental to them both. The only solution is to find the fabled book that has the counterspell—find it in space and time. Cassie—in her struggles between her passionate need for independence, her burgeoning feelings for Mircea and her conflicts with her new role as Pythia—is a well-rounded character, and the intensity and complexity of the plot puts her through her paces physically, emotionally and psychically."-Publishers Weekly

"Karen Chance will enthrall you with her world of vampires, mages, and a fair maiden tough enough to kick their butts."-USA Today bestselling author Rebecca York "A great writer of supernatural fantasy that is on a par with the works of Kim Harrison, Charlaine Harris, and Kelley Armstong."-Midwest Book Review