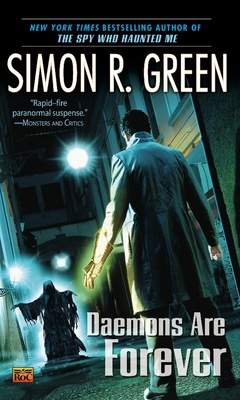 Daemons Are Forever (Mass Market Paperbound)
Roc, 9780451462787, 414pp.
Publication Date: June 2, 2009
Description
New York Times bestselling author Simon R. Green returns with an all-new urban supernatural action and adventure...

BOND. SHAMAN BOND. Actually, the name's Drood, Eddie Drood. For centuries, the Droods have been fighting the monsters in the shadows so that the rest of you lot can go about your everyday lives. These days, I'm the head of the family. Because I'm the head of the family, it's fallen to me to deal with a bit of a mess left over from World War II. Seems that back then the Droods made a pact with a bunch of demons known as the Loathly Ones to fight some really nasty buggers called up by the Nazis. Once the war was over, we couldn't get rid of them. Now they're calling their masters to invade and destroy our world...and we Droods are the last, best hope of stopping them. I'd say that the world is in a major lot of trouble.
About the Author
Simon R. Green is a New York Times bestselling author whose works include the Secret Histories Novels, the Novels of the Nightside, the Ghost Finders series, Drinking Midnight Wine, Beyond the Blue Moon, Blue Moon Rising, The Adventures of Hawk & Fisher, and the Deathstalker series. He lives in England.
Praise For Daemons Are Forever…
"A surprisingly moving tale of self-sacrifice and hope in the midst of chaos and loss."
-Monsters and Critics

"Green delivers on the high-stakes action/adventure...Fans of fast-paced heroics, featuring a snarky knight armored in silver and sarcasm, need look no further; Eddie Drood is your guy."
-SF Revu

"Green loves the widescreen splash of cinematic battles against zombie hordes, and genuine traces of tragedy and nobility underlie the nonstop punning banter and pop culture references, lending surprising nuance to this merry metaphysical romp."
-Publishers Weekly
Advertisement