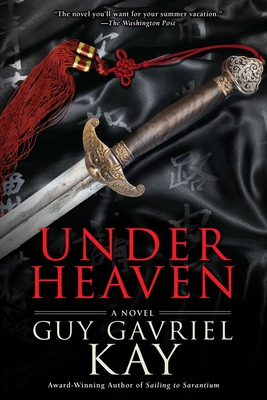 Under Heaven
Paperback

* Individual store prices may vary.
Other Editions of This Title:
Digital Audiobook (4/26/2010)
Paperback (2/1/2011)
Hardcover (4/27/2010)
Description
Award-winning author Guy Gavriel Kay evokes the dazzling Tang Dynasty of 8th-century China in an masterful story of honor and power.

It begins simply. Shen Tai, son of an illustrious general serving the Emperor of Kitai, has spent two years honoring the memory of his late father by burying the bones of the dead from both armies at the site of one of his father's last great battles. In recognition of his labors and his filial piety, an unlikely source has sent him a dangerous gift: 250 Sardian horses.

You give a man one of the famed Sardian horses to reward him greatly. You give him four or five to exalt him above his fellows, propel him towards rank, and earn him jealousy, possibly mortal jealousy. Two hundred and fifty is an unthinkable gift, a gift to overwhelm an emperor.

Wisely, the gift comes with the stipulation that Tai must claim the horses in person. Otherwise he would probably be dead already...
Praise For Under Heaven…
Praise for Under Heaven

"Guy Gavriel Kay's Under Heaven isn't quite historical fiction, nor is it quite fantasy. It's set in a slightly reimagined Tang dynasty China, sometimes seems reminiscent of films like "Crouching Tiger, Hidden Dragon," and depicts the unimaginable consequences of a single generous gift. Most important of all, it is the novel you'll want for your summer vacation." —The Washington Post
 
"Guy Gavriel Kay is peerless in plucking elements from history and using them to weave a wholly fantastical tale that feels like a translation of some freshly unearthed scroll from a time we have yet to discover."—The Miami Herald

"A magnificent epic, flawlessly crafted, that draws the reader in like a whirlwind and doesn't let go."—The Huffington Post
 
"Completely transporting...combines the best of historical and fantasy novels to create a great read where you don't know what could happen next."—Laura Miller, Salon Book Reviewer
 
"Guy Gavriel Kay, hunting in the twilight zone between fact and dream, has written a shimmering novel, a fantasia on T'ang China, the epitome of Chinese civilization...a beautiful, compulsive read."—Locus

More Praise for the Novels of Guy Gavriel Kay
 
"[Read] anything by Guy Gavriel Kay...His strengths are strong characters and fantastic set pieces."—The New Yorker 
 
"History and fantasy rarely come together as gracefully or readably as they do in the novels of Guy Gavriel Kay."—The Washington Post Book World

"Kay shows why he's the heir to Tolkien's tradition."—Booklist
 
"Kay is a genius. I've read him all my life and am always inspired by his work."—#1 New York Times bestselling author Brandon Sanderson 
 
"A storyteller on the grandest scale."—Time Magazine, Canada
Ace, 9780451463890, 608pp.
Publication Date: May 3, 2011
About the Author
Guy Gavriel Kay is the international bestselling author of numerous fantasy novels including The Fionavar Tapestry trilogy, Tigana, The Last Light of the Sun, Under Heaven, River of Stars, and Children of Earth and Sky. He has been awarded the International Goliardos Prize for his work in the literature of the fantastic, and won the World Fantasy Award for Ysabel in 2008. In 2014 he was named to the Order of Canada, the country's highest civilian honor. His works have been translated into more than twenty-five languages.
Shen Tai observes, "Every single tale carries within it many others, noted in passing, hinted at, entirely overlooked. Every life has moments when it branches, importantly (even if only for one person), and every one of those branches will have offered a differ­ent story."
What moments in this story would have been easy to over­look? How does Kay—via the story's narrator and other voices and devices—handle easy-to-overlook details and aspects of the saga? What characters, perhaps even minor ones, make you think that their stories might have been important or interesting, too? What does this do to the depth of any novel, when you feel this way?
Can you identify moments in the novel where a character's deision, or an accidental event, changes the way life will go for that character? Are there moments when such a branching changes the way history will go for the whole empire of Kitai?
Have there been such moments in your life and in your country's history?
A Taguran princess gives Tai a gift of 250 prized Sardian horses, when one would be considered an extraordinary offering. What might be a modern-day equivalent of such a gift? Have you ever received a disproportionately generous gift? How did you respond? What is at stake in accepting such a gift for people of our time? What was at stake for Shen Tai? Why would these horses have been so important in that day and age? Does the novel make this clear?
Discuss the role women characters play in the novel, from the Kanlin warrior who murders Tai's friend Shen Li-Mei, to Spring Rain, Wen Jian, and Wei Song. What constraints are imposed on these women and how do they exert their powers on men and on governments, or even to have some control over their own lives?
How do female characters relate to movement in the plot? What devices does the author use to draw attention to female voices in the narrative?
Which of the women characters stood out for you most clearly? Discuss the relationship of romance to the story line. Does the idea of "romance" vary from culture to culture, or is it a constant in human nature? Consider the relationship suggested in Under Heaven between students and courtesans.
There is a fair bit of poetry in the book, and Kay has written that he included this to be "true" to the culture of the Tang Dynasty, where educated people were expected to be able to write (or improvise) and appreciate poetry. In the book, did this add to the strangeness of the society for you as a reader, or did it increase the feeling of detail and immersion? How can writers create in a reader that sense of being "lost" in a differ­ent world? Did Under Heaven achieve that for you?
In an essay on Under Heaven, Kay has called the Tang Dynasty "glittering, glorious, sophisticated, violently dangerous" and "one of the absolute high points of civilization—anywhere." How is this conveyed in the novel?
The people of Kitai have an uneasy relationship with the lands and cultures that exist outside their borders and beyond the Wall. We are told that the "Kitan felt a defining superiority and contempt for those beyond their borders, but also fear whenever they left home, even if that was denied."
In what ways do different characters cope with this tension when they find themselves near or beyond the boundaries of their land? How do Tai's and Li Mei's sojourns among the Bogü lands compare with each other, and how is each of them shaped by travels abroad?
Consider also Tai's relationship with the Taguran officer Bytsan, and Bytsan's impressions of Tai. Does every culture believe there are "barbarians" beyond its (literal or figurative) walls?
The main political crisis in the novel arises because of two ambitious men fighting for power in a space created by the Emperor growing indifferent to the duties of government, prefer­ring to spend his time with Wen Jian. Does this seem to be an often-repeated motif in history, where personal ambition and rivalry lead to larger destruction? Can this be an example of how the events in imaginary "Kitai" offer insight into our own world and time?
In the last paragraph before the Epilogue, Tai ruminates on his situation: "You did what you could to shape your own peace, before you crossed over to the night and left the world behind, as all men did, to be forgotten or remembered, as time or love allowed."
Shen Tai has not managed to save the country he loves. The elaborate civilization into which he was born is about to go down into a kind of Dark Ages amid incalculable human suffering and the destruction of every sort of beauty.
And yet are there ways in which he has managed to "shape [his] own peace"? How does the novel explore the idea of bal­ance, including a balance between involvement as a good citizen in the politics of the day, and withdrawal from violent events to pursue more spiritual goals?
When times seem impossibly dark, what can people of good­will do?
"I have come to dislike the appropriation of real lives as vehicles for an author's guesswork or distortion," writes Guy Gavriel Kay in the Author's Note to this novel. "I prefer to offer a character inspired by the great Tang poet, Li Bai, rather than pretend I have any access to the thoughts and relationships of the real figure." If someone is "famous" are they fair game for any novel or film? What if they are real, but very obscure? What do you think of Kay's approach? To what extent does Kay succeed in this mission?
We read fiction for a lot of reasons—to be thrilled by an exciting story, to learn a bit about places we may never go. To have our own sense of the world changed. Some people believe they learn from the characters in fiction just as they learn from people in their actual lives. Is that true for you? Can you think of a time when something you learned from a novel helped you respond to a circumstance in your life?
If this is true, do you find it makes a difference that the place called "Kitai" is as fictional as Shen Tai and Wei Song? Or can you bring back wisdom from the history of Kitai that will stay with you in the real world?