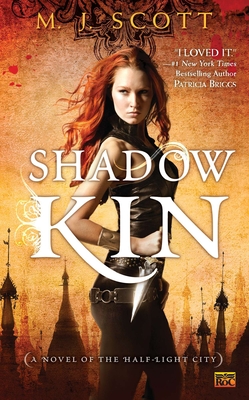 Shadow Kin (Mass Market Paperbound)
Roc, 9780451464040, 324pp.
Publication Date: September 6, 2011
Description
On one side, the Night World, rules by the Blood Lords and the Beast Kind. On the other, the elusive Fae and the humans, protected by their steadfast mages...
Born a wraith, Lily is a shadow who slips between worlds. Brought up by a Blood Lord and raised to be his assassin, she is little more than a slave. But when Lily meets her match in target Simon DuCaine, the unlikely bond that develops between them threatens to disrupt an already stretched peace in a city on the verge of being torn apart...
About the Author
M. J. Scott is the author of the The Shattered Court and the Half-Light City novels: Shadow Kin, Blood Kin, Iron Kin, and Fire Kin. She is an unrepentant bookworm. Luckily, Scott grew up in a family that fed her a properly varied diet of books, and these days she's surrounded by people who are understanding of her story addiction. When not wrestling with one of her own stories, she can generally be found reading someone else's. Her other distractions include yarn, cat butlering, dark chocolate, and fabric. She lives in Melbourne, Australia.
Praise For Shadow Kin…
"Had me hooked from the very first page."
-New York Times bestselling author Keri Arthur

"M. J. Scott's SHADOW KIN is a steampunky romantic fantasy with vampires that doesn't miss its mark — I loved it."
-New York Times bestselling author Patricia Briggs

"M. J. Scott weaves a fantastic tale of love, betrayal, hope, and sacrifice against a world broken by darkness and light, where the only chance for survival rests within the strength of a woman made of shadow and the faith of a man made of light. Lovers of fantasy, romance, and magic will fall into these pages and never want to come out again."
-National bestselling author Devon Monk

"The solid worldbuilding creates a believable city and mix of cultures. All in all, it's a compelling read from first page to last."
-New York Times bestselling author Anne Bishop
Advertisement