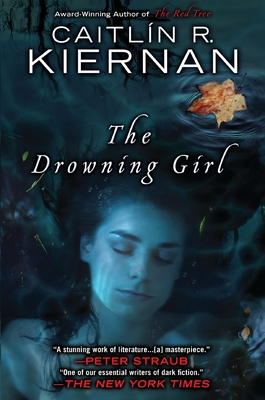 The Drowning Girl (Paperback)
Ace, 9780451464163, 352pp.
Publication Date: March 6, 2012
* Individual store prices may vary.
Description
"With The Drowning Girl, Caitlín R. Kiernan moves firmly into the new vanguard, still being formed, of our best and most artful authors of the gothic and fantastic—those capable of writing fiction of deep moral and artistic seriousness."—Peter Straub
 
India Morgan Phelps—Imp to her friends—is schizophrenic. She can no longer trust her own mind, convinced that her memories have somehow betrayed her, forcing her to question her very identity.
 
Struggling with her perceptions of reality, Imp must uncover the truth about an encounter with a vicious siren, or a helpless wolf who came to her as a feral girl, or something that was neither of these things, but something far, far stranger…
About the Author
Caitlin R. Kiernan is the author of nine novels, including Silk, Threshold, Low Red Moon, Murder of Angels, Daughter of Hounds, and The Red Tree. Her award-winning short fiction has been collected in six volumes, including Tales of Pain and Wonder; To Charles Fort, With Love; Alabaster; and, most recently, A is for Alien. She has also published two volumes of erotica, Frog Toes and Tentacles and Tales from the Woeful Platypus. Trained as a vertebrate paleontologist, she currently lives in Providence, Rhode Island.
Praise For The Drowning Girl…
"Incisive, beautiful and as perfectly crafted as a puzzle-box, The Drowning Girl took my breath away."—Holly Black, New York Times bestselling author of Red Glove
 
"This is a masterpiece. It deserves to be read in and out of genre for a long, long time."
—Elizabeth Bear, author of Grail
 
"A beautifully written, startlingly original novel."—Elizabeth Hand, author of Illyria

"With The Drowning Girl, Caitlín R. Kiernan moves firmly into the new vanguard, still being formed, of our best and most artful authors of the gothic and fantastic—those capable of writing fiction of deep moral and artistic seriousness. This subtle dark in-folded novel, through which flickers a weird insistent genius, is like nothing I've ever read before. The Drowning Girl is a stunning work of literature, and if I may be so blunt, Caitlin R. Kiernan's masterpiece."—Peter Straub

"In this novel, Caitlín R. Kiernan turns the ghost story inside out and transforms it. This is a story about how stories are told, about what they reveal and what they hide, but is no less intense or suspenseful because of that. It's a tale of real and unreal hauntings that quickly takes you down deep and only slowly brings you up for air."—Brian Evanson, author of Last Days
 
"The Drowning Girl features all those elements of Caitlín R. Kiernan's writing that readers have come to expect—a prose style of wondrous luminosity, an atmosphere of languorous melancholy, and an inexplicable mixture of aching beauty and clutching terror. It is a ghost story, but also a book about the writing of ghost stories. It is about falling in love, falling out of love, and wondering whether madness is a gift or a curse. It is one of those very few novels that one wishes would never end."—S. T. Joshi, author of I Am Providence: The Life and Times of H.P. Lovecraft
 
"Kiernan pins out the traditional memoir on her worktable and metamorphoses it into something wholly different and achingly familiar, more alien, more difficult, more beautiful, and more true."—Catherynne M. Valente, New York Times bestselling author of Deathless