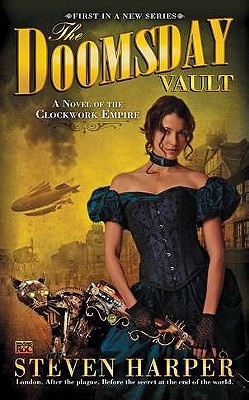 The Doomsday Vault (Mass Market)
A Novel of the Clockwork Empire
Ace, 9780451464293, 400pp.
Publication Date: November 1, 2011
* Individual store prices may vary.
Description
In a clockwork Brittania, Alice's prospects are slim. At 21, her age and her unladylike interest in automatons have sealed her fate as an undesirable marriage prospect. But a devastating plague sends Alice off in a direction beyond the pale-towards a clandestine organization, mad inventors, life-altering secrets, and into the arms of an intrepid fiddle-playing airship pilot.
About the Author
Steven Harper was born in Saginaw, Michigan, but he moved around a lot and has lived in Wisconsin, Germany, and (briefly) Ukraine.  Currently he lives with three sons near Ann Arbor, Michigan.
      Mr. Harper teaches high school English in southeast Michigan.  His students think he's hysterical, which isn't the same as thinking he's hilarious.  When not writing, he plays the folk harp, dabbles in oral storytelling, and spends more time on-line than is probably good for him.