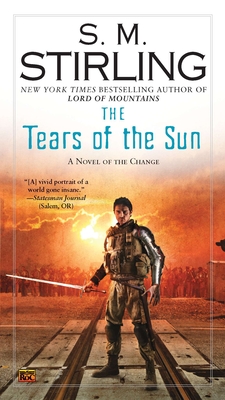 The Tears of the Sun (A Novel of the Change #8) (Paperback)
Ace, 9780451464439, 688pp.
Publication Date: September 4, 2012
Other Editions of This Title:
MP3 CD (9/6/2011)
Compact Disc (9/6/2011)
Hardcover (9/6/2011)
Compact Disc (9/6/2011)
* Individual store prices may vary.
Description
Rudi Mackenzie has traveled from the land where the sun sets to the land where it rises and back. He has found his weapon—the Sword crafted for him before he was born. He has made friends from among his enemies and found enemies where he expected friends. He has won the heart and hand of the woman he has loved his entire life.
Now Rudi is Artos, the High King of Montival, and his final destiny awaits him. He must face and defeat the forces of the Church Universal and Triumphant. Everything in the present, everything in the future, depends on the outcome of the conflict.
And like his father before him, Rudi knows that in winning the war he might well lose his life...
About the Author
S. M. Stirling is the author of many science fiction and fantasy novels.
Praise For The Tears of the Sun (A Novel of the Change #8)…
"The emerging kingdom of Montival is a damn cool place to hang out. In this postapocalyptic North America, Stirling has cherry-picked everything a fan might wish for in a high fantasy/apocalypse/alternate history mashup. You've got heroes, horses, swordplay, kings, siege engines, and mystics. And all with (somewhat) less patriarchy, because the postmodern world that spawned Montival—our world—has left a big stamp of twentieth-century social progress on the society rising from its ashes."—Tor.com
"[The] Tears of the Sun engages fans of the saga, who will anxiously await the next Change."—Genre Go Round Reviews