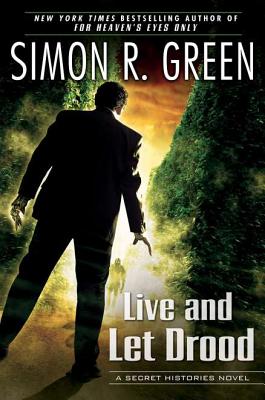 Live and Let Drood: A Secret Histories Novel (Hardcover)
A Secret Histories Novel
Roc, 9780451464521, 368pp.
Publication Date: June 5, 2012
* Individual store prices may vary.
or
Not Currently Available for Direct Purchase
Description
The Secret Histories Novels combine witty banter, tough guy standoffs, visceral fight scenes, bad guy atrocities, surprise revelations, and high stakes * in supernatural adventures that can only come from the imagination of "New York Times" bestselling author Simon R. Green.
The name is Bond, Shaman Bond. Better known as Drood, Eddie Drood Yes, I m one of "those "Droods the family who ve been keeping the forces of evil contained in the shadows for as long as humans have walked the earth.
Recently, I suffered a slight case of "death," but thanks to Molly, my best girl (who happens to be a powerful witch), I got over that right quick. Unfortunately, my family wasn t so lucky. In my absence, Drood Hall was destroyed and all my relatives were killed. Which left me as the Last of the Droods.
I didn t much like being The Last Drood, I can tell you and then I realized that things weren t as they seemed. Someone had activated a dimensional engine, sending my Drood Hall off to an alternate Earth, replacing it with a burnt-out doppelganger. My family is still alive out there. Somewhere.
And nothing's going to stop me from finding them
*Green Man Review.
About the Author
Simon R. Green is a New York Times bestselling author whose works include Drinking Midnight Wine, Beyond the Blue Moon, Blue Moon Rising, The Adventures of Hawk & Fisher, and the Deathstalker series.
Advertisement