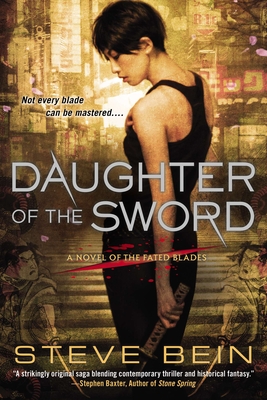 Daughter of the Sword (Paperback)
A Novel of the Fated Blades
Ace, 9780451464774, 480pp.
Publication Date: October 2, 2012
Other Editions of This Title:
Mass Market (9/3/2013)
* Individual store prices may vary.
Description
Mariko Oshiro is not your average Tokyo cop. As the only female detective in the city's most elite police unit, she has to fight for every ounce of respect, especially from her new boss. While she wants to track down a rumored cocaine shipment, he gives her the least promising case possible. But the case—the attempted theft of an old samurai sword—proves more dangerous than anyone on the force could have imagined.

The owner of the sword, Professor Yasuo Yamada, says it was crafted by the legendary Master Inazuma, a sword smith whose blades are rumored to have magical qualities. The man trying to steal it already owns another Inazuma—one whose deadly power eventually comes to control all who wield it. Or so says Yamada, and though he has studied swords and swordsmanship all his life, Mariko isn't convinced.

But Mariko's skepticism hardly matters. Her investigation has put her on a collision course with a curse centuries old and as bloodthirsty as ever. She is only the latest in a long line of warriors and soldiers to confront this power, and even the sword she learns to wield could turn against her.  
About the Author
Steve Bein teaches Asian philosophy and Asian history at the State University of New York, Geneseo. He holds a PhD in philosophy and holds four degrees of black belt, having studied both philosophy and martial arts for about twenty years each. His short fiction has appeared in Asimov's, Interzone, and Writers of the Future. Daughter of the Sword is his first novel.
Praise For Daughter of the Sword: A Novel of the Fated Blades…
"Steve Bein's Daughter of the Sword is a strikingly original saga blending contemporary thriller and historical fantasy. Enthralling ... A noir modern Tokyo overwhelmed by the shadows of Japanese history. The research is convincing, the touch light. A compelling multifaceted vision of a remarkable culture, and a great page-turner."—Stephen Baxter, author of Stone Spring

"A sharp and superb urban fantasy, Daughter of the Sword is the perfect melding of skillful prose, fascinating characters, and compelling story. Steve Bein effortlessly combines history and legend with a modern procedural in a book that will have you staying up late to finish it."—Diana Rowland, author of Sins of the Demon

"Steve Bein's Daughter of the Sword really captured my imagination. The interweaving of historical Japanese adventure and modern police procedural, Tokyo-style, caught me from two unexpected directions. A tight read, lots of great tension, and epic stakes."—Jay Lake, author of Green and Mainspring

"Bein's gripping debut is a meticulously researched, highly detailed blend of urban and historical fantasy set in modern Tokyo."—Publishers Weekly

"An epic tale that heralds the emergence of a major talent...one of the best debuts I have ever read. Grab it ASAP and see for yourself why Steve Bein deserves all the praise coming his way."—Fantasy Book Critic

"A beautiful...totally unique novel."—Between Dreams and Reality

"Ends with a bang...it shall be interesting to read the next book in the series."—Gizmo Reviews

"A superb effort from a new author, polished and stylish."—Otherwhere Gazette

"An interesting and absorbing read, I really recommend it and can't wait to see what happens next in this series."—Under the Covers

"Beautiful writing, a smart and resilient protagonist who meets her match in a coldly demented villain. The procedural elements are tight and fascinatingly different...I was bewitched."—All Things Urban Fantasy

"If you love reading about far-away places, historical fiction and fantasy, this book should definitely be on your list."—Literal Addiction

"A unique read, a combination of the paranormal and a police procedural...I was more than satisfied."—Goldilox and the Three Weres

"What a great first novel, I can't wait for the next one. It is rich in all aspects of Japanese history. I was totally enchanted from the beginning and couldn't put it down."—Night Owl Reviews

"If you have any interest in Japanese culture, samurais, bushido...ah hell, just read it...freaking epic."—Pure Textuality
or
Not Currently Available for Direct Purchase