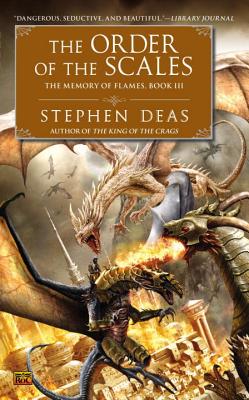 The Order of the Scales: The Memory of Flames, Book III (Mass Market Paperbound)
The Memory of Flames, Book III
Ace Books, 9780451465009, 416pp.
Publication Date: February 5, 2013
Description
As various factions fight for control of the Adamantine Palace, those very dragons theaten a fiery apocalypse for all humankind...
Having survived Jehal's betrayal, former Queen Zafir is determined to take back control of the kingdom. To that end, she seizes Jehal's wife and son as hostages. Jehal, desperate to save his queen and his heir, makes a tentative peace with the dragons of the north, and prepares to fly against his enemies.
But as politics throw the realms of men into turmoil, a far greater danger threatens. The dragons are awakening from the spells cast upon them, and returning to their native fury. They can remember why they were created--and they now recall what humans did to them. They are out for revenge. And that revenge will be brutal.
As hundreds of untamed dragons prepare to attack, only the Adamantine Guard stand between humanity and extinction. Now, Jehal must not only fight for his family, he must then unite his former enemies to wage an epic battle between man and beast...
About the Author
Stephen Deas is the author of The Order of the Scales, The King of the Crags, The Adamantine Palace and the short story -The Snow Fox.- He lives in southeast England with his wife and two children.
Praise For The Order of the Scales: The Memory of Flames, Book III…
"This vivid conclusion to Deas's epic fantasy brings the essential conflict of the series to a fever pitch...dangerous, seductive and beautiful."--Library Journal

"Ferociously explosive."--Kirkus Reviews

"Roll over, McCaffrey, there's a new Dragon Lord in town."--Gareth Wilson, Falcata Times
Advertisement