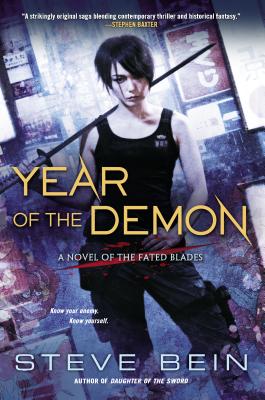 Year of the Demon (A Novel of the Fated Blades #2) (Paperback)
Ace, 9780451465191, 544pp.
Publication Date: October 1, 2013
* Individual store prices may vary.
Description
A MASK OF DESTRUCTION

Detective Sergeant Mariko Oshiro has been promoted to Japan's elite Narcotics unit—and with this promotion comes a new partner, a new case, and new danger. The underboss of a powerful yakuza crime syndicate has put a price on her head, and he'll lift the bounty only if she retrieves an ancient iron demon mask that was stolen from him in a daring raid. However, Mariko has no idea of the tumultuous past carried within the mask—or of its deadly link with the famed Inazuma blade she wields. 

The secret of this mask originated hundreds of years before Mariko was born, and over time the mask's power has evolved to bend its owner toward destruction, stopping at nothing to obtain Inazuma steel. Mariko's fallen sensei knew much of the mask's hypnotic power and of its mysterious link to a murderous cult. Now Mariko must use his notes to find the mask before the cult can bring Tokyo to its knees—and before the underboss decides her time is up....
About the Author
Steve Bein teaches Asian philosophy and Asian history at the State University of New York - Geneseo. He holds a PhD in philosophy, and his graduate work took him to Nanzan University and Obirin University in Japan, where he translated a seminal work in the study of Japanese Buddhism. His short fiction has been published in Asimov's, Interzone, Writers of the Future, and has been anthologized for use in college courses alongside the works of such figures as Orson Scott Card, Larry Niven, Isaac Asimov, and H.G. Wells.
Praise For Year of the Demon (A Novel of the Fated Blades #2)…
Praise for Year of the Demon

"I am utterly addicted to this series! Steve Bein avoids sophomore slump with brilliant ease in this sequel to Daughter of the Sword, and continues to surprise and captivate with exquisite tension and terrific characters in an amazingly well-crafted mystery. I can't wait for the next one!"—Diana Rowland, author of Touch of the Demon

"Gripping…Bein combines the best parts of police procedurals, buddy-cop films, historical fantasy, and intrigue-laden adventure, enhancing them with painstaking research and attention to atmosphere."—Publishers Weekly

"There's no doubting the authenticity of Bein's creation as he elegantly binds all the elements together."—Kirkus Reviews

"Bein excels beyond any history lover's wildest imagination with exceptionally researched, vivid depictions of ancient Japan."—Romantic Times

"[Bein is] not a one-book wonder. Year of the Demon is a darker story that excoriates its characters much more than was thought possible…A good follow-up to one of my favorite debuts of all time."—Fantasy Book Critic

"Part thriller, part police procedural, part historical and part urban fantasy, Year of the Demon is simply a book for people who like to read. It has something for everyone and Bein does an amazing job of weaving them all together into a fascinating story."—All Things Urban Fantasy
or
Not Currently Available for Direct Purchase