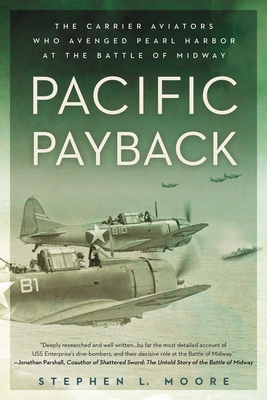 Pacific Payback (Paperback)
The Carrier Aviators Who Avenged Pearl Harbor at the Battle of Midway
Dutton Caliber, 9780451465535, 448pp.
Publication Date: June 2, 2015
Other Editions of This Title:
Compact Disc (9/20/2016)
MP3 CD (9/20/2016)
Hardcover (6/3/2014)
* Individual store prices may vary.
Description
"Deeply researched and well written....By far the most detailed account of USS Enterprise's dive-bombers and their decisive role at the Battle of Midway."*

Sunday, December 7, 1941, dawned clear and bright over the Pacific....

But for the Dauntless dive-bomber crews of the USS Enterprise returning to their home base on Oahu, it was a morning from hell. Flying directly into the Japanese ambush at Pearl Harbor, they lost a third of their squadron and witnessed the heart of America's Navy broken and smoldering on the oil-slicked waters below.

The next six months, from Pearl Harbor to the Battle of Midway—a dark time during which the Japanese scored victory after victory—this small band of aviators saw almost constant deployment, intense carrier combat, and fearsome casualties. Many were killed by enemy Zero fighters, antiaircraft fire, or deadly crash landings in the Pacific, while others were captured and spent years in POW camps. Yet the Enterprise's Dauntless crews would be the first to strike an offensive blow against Japanese installations in the Marshall Islands, would be the first to sink a Japanese warship, and would shepherd the Doolittle Raiders' bombing of Tokyo.

Not until Midway, though, would Dauntless crews get the chance to settle the score...and change the course of World War II.

Drawing on dozens of new interviews and oral histories, author Stephen L. Moore brings to life inspiring stories of individual sacrifice and bravery—and the sweeping saga of one of America's greatest triumphs.

INCLUDES PHOTOS
About the Author
Stephen L. Moore, a sixth-generation Texan, graduated from Stephen F. Austin State University in Nacogdoches, Texas, where he studied advertising, marketing, and journalism. He is the author of multiple books on World War II and Texas history, including Taming Texas, a biography of his great-great-great grandfather William T. Sadler, who was one of the first Texas Ranger captains in the 1830s. Steve lives north of Dallas in Lantana, Texas, with his wife, Cindy, and their three children.
Praise For Pacific Payback: The Carrier Aviators Who Avenged Pearl Harbor at the Battle of Midway…
Praise for Pacific Payback

"Deeply researched and well written...by far the most detailed account of USS Enterprise's dive-bombers, and their decisive role at the Battle of Midway."—*Jonathan Parshall, coauthor of Shattered Sword: The Untold Story of the Battle of Midway

"[A] heartfelt tribute to the SBD pilots and radiomen...a valuable contribution to the history of the Pacific War."—John B. Lundstrom, author of The First Team