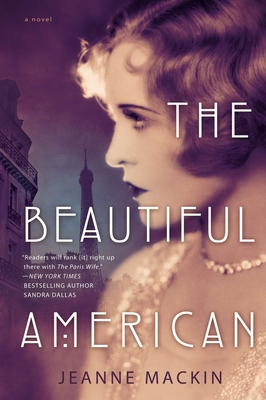 The Beautiful American
Paperback

* Individual store prices may vary.
Other Editions of This Title:
Digital Audiobook (6/2/2014)
Compact Disc (6/3/2014)
MP3 CD (6/3/2014)
Compact Disc (6/3/2014)
Description
From Paris in the 1920s to London after the Blitz, two women find that a secret from their past reverberates through years of joy and sorrow....

As recovery from World War II begins, expat American Nora Tours travels from her home in southern France to London in search of her missing sixteen-year-old daughter. There, she unexpectedly meets up with an old acquaintance, famous model-turned-photographer Lee Miller. Neither has emerged from the war unscathed. Nora is racked with the fear that her efforts to survive under the Vichy regime may have cost her daughter's life. Lee suffers from what she witnessed as a war correspondent photographing the liberation of the Nazi concentration camps.

Nora and Lee knew each other in the heady days of late 1920s Paris, when Nora was giddy with love for her childhood sweetheart, Lee became the celebrated mistress of the artist Man Ray, and Lee's magnetic beauty drew them all into the glamorous lives of famous artists and their wealthy patrons. But Lee fails to realize that her friendship with Nora is even older, that it goes back to their days as children in Poughkeepsie, New York, when a devastating trauma marked Lee forever. Will Nora's reunion with Lee give them a chance to forgive past betrayals…and break years of silence to forge a meaningful connection as women who have shared the best and the worst that life can offer?

A novel of freedom and frailty, desire and daring, The Beautiful American portrays the extraordinary relationship between two passionate, unconventional women.

Readers Guide Included
Praise For The Beautiful American…
Praise for The Beautiful American

"Mackin's ability to re-create history and to create believable characters and situations makes her new work a transfixing story that is hard to put down. Sure to be loved by fans of Mackin and of the historical novel; very highly recommended."--Library Journal 

"Readers will rank [it] right up there with The Paris Wife…. A brilliant, beautifully written literary masterpiece…"--New York Times bestselling author Sandra Dallas

"Will transport you to expat Paris… and from there take you on a journey through the complexities of a friendship…breathes new life into such luminaries as Man Ray, Picasso, and, of course, the titular character, Lee Miller, while at the same time offering up a wonderfully human and sympathetic protagonist in Nora Tours."--Suzanne Rindell, author of The Other Typist

"Leaves its essence of love, loss, regret, and hope long after the novel concludes."--Erika Robuck, author of Fallen Beauty

"Achingly beautiful and utterly mesmerizing… Sure to appeal to fans of Paula McLain's The Paris Wife and Erika Robuck's Call Me Zelda, or indeed to anyone with a taste for impeccably researched and beautifully written historical fiction."-- Jennifer Robson, author of Somewhere in France

"An engaging and unforgettable novel. I couldn't put it down."--Renee Rosen, author of Dollface

"An exquisitely imagined and beautifully rendered story of the talented, tragic, gorgeous Lee Miller."--Becky E. Conekin, author of Lee Miller in Fashion

"Beautiful…A fascinating account of a little-known woman who was determined to play by her own rules."--Historical Novel Society

"Lovers of the film A Midnight in Paris will definitely enjoy this."--Chick Lit Plus

"[An] exquisitely depicted story of love, betrayal, forgiveness."--Crystal Book Reviews

"An engrossing novel…Compulsively readable."--BookNAround
Berkley, 9780451465825, 384pp.
Publication Date: June 3, 2014
About the Author
Jeanne Mackin teaches creative writing at Goddard College in Vermont and has taught or conducted workshops in Pennsylvania, Hawaii and New York.  She lives with her husband, artist Steve Poleskie, in upstate New York. She is also the author of several novels:  The Sweet By and By, Dreams of Empire, The Queen's War, and The Frenchwoman.
What did you most enjoy about the novel? What do you think you will remember about it many months from now?
When Nora and Lee play together as children, Lee is the more daring. During your own childhood, were you more like Nora or Lee? Discuss the dangerous risks that Lee takes during the novel. Does she pay a price for her boldness? Is great risk-taking necessary for great achievement?
If the friendship between Nora and Lee lies at the heart of the novel, what kind of friendship is it? How does it evolve over time? Discuss the ways in which they each betray the other, yet also save each other.
In the author's portrayal of ardent young love between Nora and Jamie, what details make their romance come alive for you? Why do you think Jamie betrays Nora? Is Nora right or wrong in not telling him about her pregnancy? Compare the Nora/Jamie relationship with the Lee/Man Ray relationship. Is one love more "true" than the other?
Discuss how Lee's childhood rape might have shaped her adult attitude toward sex and emotional intimacy. What other factors might have also contributed to her unconventional beliefs? Do you consider her behavior liberated or pathological?
Like the main character in Woody Allen's movie Midnight in Paris, do you wish you could have lived in Paris in the 1920s? Do you consider our own time inferior to the past, and if so, in what ways?
Discuss the mother/child relationships in the novel—Nora and her mother, Nora and Dahlia, and Lee and Anthony. How is Natalia also a mother to Nora? Who among them is the "good" mother?
Jamie never finds artistic recognition for his photography and ends up back in Poughkeepsie taking pictures of local events. Does he consider himself a failure? Do you? Discuss the role that changing taste plays in keeping him from success. Do you know an artist of any kind whose work is currently out of favor but who is perhaps worthy of recognition?
As a model, Lee seems to be aware of how photographs objectify her beauty and turn her into something that isn't fully real or female. Discuss how she and Man Ray explore this idea in their art and in their life together (for example, at Lee's party). At the end of the novel, are there indications that Lee has moved beyond this subject?
Lee describes photographing the Nazi death camps and taking a bath in Hitler's bathtub. What do you think the bath signifies for her?
What does the panther in the Paris zoo represent for Nora?
Do you have a signature scent? Would Nora think it suits you?
or
Not Currently Available for Direct Purchase