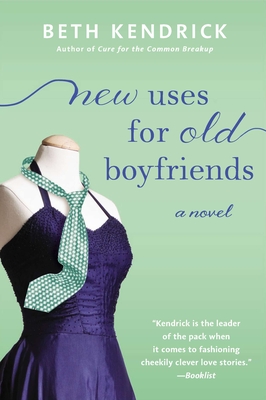 New Uses for Old Boyfriends (Black Dog Bay Novel #2)
Paperback

* Individual store prices may vary.
Other Editions of This Title:
MP3 CD (11/3/2015)
Compact Disc (11/3/2015)
Library Binding, Large Print (4/1/2015)
Description
After growing up in privilege and marrying into money, Lila Alders has gotten used to the good life. But when her happily-ever-after implodes, Lila must return to Black Dog Bay, the tiny seaside town where she grew up. She's desperate for a safe haven, but everything has changed over the past ten years. Her family's fortune is gone—and her mother is in total denial. It's up to Lila to take care of everything...but she can barely take care of herself.
The former golden girl of Black Dog Bay struggles to reinvent herself by opening a vintage clothing boutique. But even as Lila finds new purpose for outdated dresses and tries to reunite with her ex, she realizes that sometimes it's too late for old dreams. She's lost everything she thought she needed but found something—someone—she desperately wants. A boy she hardly noticed has grown up into a man she can't forget...and a second chance has never felt so much like first love.

READERS GUIDE INCLUDED
Praise For New Uses for Old Boyfriends (Black Dog Bay Novel #2)…
"Beth Kendrick has written a sharp, sassy, surprisingly emotional story that will make readers laugh out loud from page one and sigh from the heart at the end.  Light and lovely perfection!"
—Roxanne St. Claire, New York Times bestselling author on CURE FOR THE COMMON BREAKUP
"A smart, funny spin on happily-ever-after!"
—Beth Harbison, New York Times bestselling author
"Kendrick writes with a wicked sense of humor and great wisdom about the power of friendship [and] the importance of true love."
—The Chicago Tribune
Berkley, 9780451465863, 336pp.
Publication Date: February 3, 2015
About the Author
Beth Kendrick is the author of ten novels, including Cure for the Common Breakup,The Week Before the Wedding, and The Lucky Dog Matchmaking Service. She lives in Arizona with her family and a pair of unruly rescue dogs.
To what extent do you believe that certain relationships or events in your life were "meant to be"?
Lila and Ben's romantic relationship ended after high school, but they reconnect on a different level. Do you think the two of them could have made it work as husband and wife? How important is physical chemistry versus emotional/intellectual compatibility in a marriage?
Do you think Ben and Allison will have a happy marriage? Which factors are most likely to
determine this?
If Lila and Daphne had been forced to break the news to Mimi Sinclair about her knockoff handbags, who do you think should have told her? What would Mimi's reaction likely have
been?
Daphne considers her vintage couture as archived pieces of her own history. Are there certain items of clothing that capture significant moments in your life? Are there certain pieces you've purposefully gotten rid of?
Lila buys the FUV in a spate of panic and revenge after her life falls apart. Several characters in the book talk about buying material goods as a way of seeking comfort. Can this work as a coping strategy, and should we place a value judgment on "retail therapy"?
Malcolm doesn't talk much about his memories of high school. What do you think he was like as a teenager?
Daphne and Lila name their boutique Unfinished Business because it acts as a bridge between their pasts and their futures. If you opened a shop to resell some of the most meaningful material possessions from your life, what would you call it?
Lila and Malcolm share a moment during which they are terrified not of their limitations but of their potential. Can you think of examples of this in your own life, when the idea of striving for fulfillment is more daunting than the idea of "settling"?
Daphne mentions several times that she gave up important parts of her identity when she married and moved to Black Dog Bay. Do you think her husband also changed his identity? Does one member of a couple typically have to sacrifice more in order for the relationship to work?
Lila and Malcolm see the "ghost dog" of Black Dog Bay right after their cliff-diving adventures by the point. Why do you think the dog appeared at that particular moment? What specifically had just changed or developed between the two of them?
or
Not Currently Available for Direct Purchase