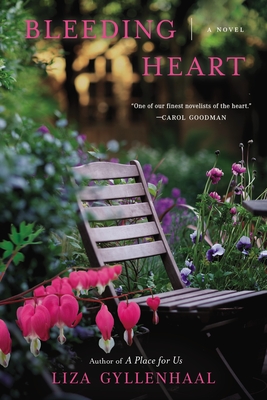 Bleeding Heart
Paperback

* Individual store prices may vary.
Description
Liza Gyllenhaal has charmed readers with her -gripping and deeply perceptive- (Ben Sherwood, Author of Charlie St. Cloud) novels. Now the author of A Place for Us brings us a captivating new story about a woman's struggle to rebuild her life after scandal destroys her marriage....
After her accountant husband disappears with millions of dollars stolen from his company's clients, Alice Hyatt flees New York City and moves to her family's longtime summer home in a small town in western Massachusetts. There she begins to make a new start, reconnecting with old friends and finding peace--and a growing sense of pride--as a landscape architect.
When extremely wealthy newcomer Graham Mackenzie asks her to design an elaborate garden for him, she can't turn down the opportunity despite misgivings about Mackenzie's energy company, which specializes in the controversial practice of fracking.
But just as the project nears completion, she learns Mackenzie's offer is not all that it seems. Once again, Alice finds herself embroiled in someone else's crimes, this time putting her newfound success--and possibly her life--in jeopardy....
CONVERSATION GUIDE INCLUDED
Praise For Bleeding Heart…
Praise for the novels of Liza Gyllenhaal

"Gyllenhaal has written a lyrical, psychologically astute, heart-stoppingly suspenseful novel about what it means to be part of a family."—Ellen Feldman, author of Next to Love

"Gyllenhaal's novel is a snapshot of a family and a community in crisis. It is a thought-provoking, all-too-familiar story of young people attempting to navigate the often treacherous road to adulthood and adults attempting to parent on an equally dangerous path."—Booklist

"Unexpected, jarring and beautiful…Gyllenhaal demonstrates a deft hand at lyrical writing that subtly balances metaphors, philosophical realizations, and the realistic complexity of emotions."—Berkshire Eagle

"This is a book to savor."—Publishers Weekly

"Gripping and deeply perceptive...Small-town life and work are rendered in vivid detail, as are the memorable characters who come alive in the hands of a gifted new writer."—Ben Sherwood, author of Charlie St. Cloud

 
New American Library, 9780451466709, 328pp.
Publication Date: November 4, 2014
About the Author
Liza Gyllenhaal is the author of A Place for Us, Local Knowledge, and So Near. She and her husband divide their time between New York City and the Berkshire Hills in Massachusetts.
What does the title mean? Who in the book has a "bleeding heart"?
Do you think Alice was justified in putting aside her principles to work for Mackenzie?
Whom did you suspect — and when — of being behind Mackenzie's death?
Alice still spends a lot of time thinking about her husband. How do you think her unresolved feelings for him affect the action of the novel?
How would you compare Alice's and Gwen's attitude toward money?
Do you think Mackenzie's a crook — or just someone whose business takes a bad turn?
Alice has a way of misjudging important people in her life, especially men. Why do you think she does that?
What is it about Mara that makes so many female characters, including Alice, want to help and protect her?
What do you think of Alice's decision not to mortgage the house in Woodhaven even though she desperately needed the money?
Alice says that she's happiest and most at peace with herself when she's gardening. Is there some place — or thing — that gives you a similar sense of well-being?
Of all the things that Alice wants to live for in the end, what do you think is most important to her?
or
Not Currently Available for Direct Purchase