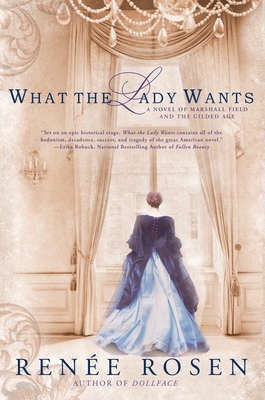 What the Lady Wants
A Novel of Marshall Field and the Gilded Age
Paperback

* Individual store prices may vary.
Description
In late-nineteenth-century Chicago, visionary retail tycoon Marshall Field made his fortune wooing women customers with his famous motto: "Give the lady what she wants." His legendary charm also won the heart of socialite Delia Spencer and led to an infamous love affair.
 
The night of the Great Fire, as seventeen-year-old Delia watches the flames rise and consume what was the pioneer town of Chicago, she can't imagine how much her life, her city, and her whole world are about to change. Nor can she guess that the agent of that change will not simply be the fire, but more so the man she meets that night...

Leading the way in rebuilding after the fire, Marshall Field reopens his well-known dry goods store and transforms it into something the world has never seen before: a glamorous palace of a department store. He and his powerhouse coterie—including Potter Palmer and George Pullman—usher in the age of robber barons, the American royalty of their generation.

But behind the opulence, their private lives are riddled with scandal and heartbreak. Delia and Marshall first turn to each other out of loneliness, but as their love deepens, they will stand together despite disgrace and ostracism, through an age of devastation and opportunity, when an adolescent Chicago is transformed into the gleaming White City of the Chicago's World's Fair of 1893.
Praise For What the Lady Wants: A Novel of Marshall Field and the Gilded Age…
"Rosen skillfully charms, fascinates, frustrates, and moves her readers in this turn of the century tale. Set on an epic historical stage, What the Lady Wants contains all of the hedonism, decadence, success, and tragedy of the great American novel."— Erika Robuck, national bestselling author of Fallen Beauty

"What the Lady Wants is a story that opens with the Great Chicago Fire and keeps on smoldering to the end. Rosen's characters are finely-drawn, and her love triangles are full of subtlety and sincerity.  What the lady indeed wants may not be what you assume it to be!"—Suzanne Rindell, author of The Other Typist

"What the Lady Wants is an absolutely brilliant novel. The love story of Marshall and Delia is completely engrossing. You get to experience their first meeting, their friendship, their love story, and their highs and lows full of romance, passion, loss, and sadness. […] Rosen has clearly done her research as Chicago during the Gilded Age comes alive with the various people, places, and things."—The Examiner

"Set against the backdrop of the great Chicago fire, the rebuilding and resurgence of the city, and the ensuing excesses of the Gilded Age, this historical novel has all the requisite features of an irresistible page-turner."—Booklist

"What the Lady Wants is superb historical fiction… It has everything within it, fashion, mystery, crime, labor disputes, social refinement and snobbery, family support and opposition, tragedy and stunning success. A MUST read and guaranteed to be a best seller… Exquisitely written!"—The Best Reviews
Berkley, 9780451466716, 448pp.
Publication Date: November 4, 2014
About the Author
Renée Rosen is the author of Dollface and the young adult novel, Every Crooked Pot. She lives in Chicago where she is at work on a new novel.
Do you find it acceptable that Marshall and Delia pursued their love affair? Or do you think they were wrong for going outside their marriages? In other words, is adultery ever justified?
There's a twenty year age difference between the Delia and Marshall. How do you account for Delia's attraction to him? Was it his money? His power? Or was it something else? Do you think relationships between older men and younger women were more common in the late 19th century than they are now?
Delia's greatest desire was to be a mother and at one point she sets out to have a child with Marsh that she, Marsh and Arthur will go on to raise. Had she not lost the baby, how do you think this arrangement would have worked out? What do you think Nannie's reaction would have been? What about Arthur's parents? Do you think the children she "had" by the end of the book ultimately fulfilled her desire for motherhood?
What do you think about how Delia handled her critics who spread rumors and blackballed her from high society? What should she have done differently, if anything? What do you think of the different reactions society had to Delia versus Marsh?
During the late 1800s a woman could not easily seek a divorce and so Delia chose to stay with Arthur. Do you think she did that solely out of obligation or out of genuine love and friendship? What would you have done if put in the same situation?
Loyalty is a big theme in this book. Delia is certainly loyal to Arthur and Marshall, but can you site other examples in the book? Do you think this is a strength or weakness of hers? Can you think of an instance or instances where you disagree with Delia's sense of devotion?
Delia and Marshall Field were part of a very elite social group known as the Prairie Avenue set. Did you find their sense of privilege more enchanting or annoying? What parts did you especially like? What parts did you not like?
Had you been alive during the Great Chicago Fire, would you have stayed and helped rebuilt the city, or would you have moved on and possibly returned after the city had come back?
The Haymarket Riots, which pitted the labor organizers against the capitalists and resulted in a deadly riot, marked a very pivotal time in our nation's history. Delia was clearly opposed to Marshall's decision to execute the accused men. Do you think she should have left him over this? How could she defend him to others when she was so strongly opposed to his position? Was this another case of loyalty and do you think she should she have stood by him?
Delia has a very definite opinion of what makes a man a man. Do you think this is based upon her father? And how do you think her relationship with her father factors into her relationship with Marshall and how does it impact her feelings toward Arthur?
How do you think department stores and retail in general has changed since the early days of Marshall Field & Company? What do you think would have been the best part of shopping in those days? Would you trade the convenience of online shopping for the charm and service offered at a store like Marshall Field & Company?