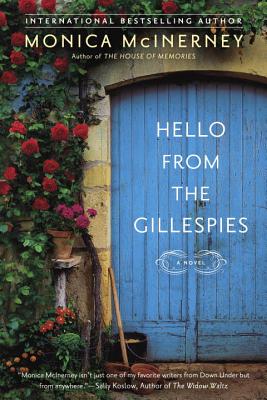 Hello from the Gillespies (Paperback)
New American Library, 9780451466723, 609pp.
Publication Date: November 4, 2014
Other Editions of This Title:
Library Binding, Large Print (10/17/2018)
Compact Disc (12/16/2014)
MP3 CD (12/16/2014)
Compact Disc (12/16/2014)
* Individual store prices may vary.
Description
THE PERFECT READ FOR THE HOLIDAY SEASON
It's time for the annual holiday letter from the Gillespie family....
New from the author of The House of Memories
For the past thirty-three years, Angela Gillespie has sent to friends and family around the world an end-of-the-year letter titled "Hello from the Gillespies." It's always been cheery and full of good news. This year, Angela surprises herself--she tells the truth....
The Gillespies are far from the perfect family that Angela has made them out to be. Her husband is coping badly with retirement. Her thirty-two-year-old twins are having career meltdowns. Her third daughter, badly in debt, can't stop crying. And her ten-year-old son spends more time talking to his imaginary friend than to real ones.
Without Angela, the family would fall apart. But when Angela is taken away from them in a most unexpected manner, the Gillespies pull together--and pull themselves together--in wonderfully surprising ways...
READERS GUIDE INCLUDED

About the Author
Monica McInerney is the award-winning, international bestselling author of ten previous novels: The House of Memories, Lola's Secret, At Home with the Templetons, Those Faraday Girls, Odd One Out, Family Baggage, The Alphabet Sisters, Spin the Bottle, Upside Down Inside Out, and A Taste for It. She grew up in Australia and has split her time between Australia and Ireland for twenty years.
Praise For Hello from the Gillespies…
"[McInerney] brings Maeve Binchy readily to mind."—The Sydney Morning Herald (Sydney, Australia)

"McInerney is an expert in portraying the nuances and complications of family life."—Red Magazine (UK)

Praise for The House of Memories

"A suspenseful, deeply emotional story…a celebration of the power of family and connection to heal and inspire hope. An unforgettable treat."—New York Times bestselling author Susan Wiggs

"Beautifully composed of equal parts soul and wit…Its heart is huge, its pulse palpable, and its narrators irresistible. I read it voraciously."—Erika Marks, author of It Comes in Waves
A Christmas letter gone awry starts the action of the book. Does your family send a Christmas letter? How truthful is it? Have you ever wanted to be blunt and honest, and reveal all, as Angela does? What would happen if you did?generic viagra price canada
Have you ever accidentally sent an e-mail that you really didn't mean to send, and suffered major consequences for it?generic viagra price canada
Of the four Gillespie children, do you have a favorite? Who is it and why?generic viagra price canada
Why do Genevieve and Nick decide that Nick should go to London?generic viagra price canada
Ig is special to Angela in a way that her daughters are not, and Ig is the one who finally makes her realize that she is Angela Gillespie, mother of all four children. Why do you think their bond is so strong?generic viagra price canada
In Hello From the Gillespies we see many different responses to setbacks. For example, Nick withdraws, Lindy complains and Genevieve jokes about her situation. Yet by the end, each of them has found a positive solution to their setbacks. How is that?generic viagra price canada
Discuss the various secrets in the novel.generic viagra price canada
Angela forgets her own personal history, and Nick becomes fascinated by his genealogy. What is the role of the past and memory? Does it change throughout the book?generic viagra price canada
Although Genevieve, Victoria and Lindy are sisters close in age, the author creates distinct personalities for each of them. How does she accomplish this?generic viagra price canada
Which character changes the most over the course of the story? Why?generic viagra price canada
The book is about a far-flung family returning home to Errigal. What does the setting add to the novel? What does Errigal mean to each of the Gillespies? Is there a place that holds particular meaning for you?generic viagra price canada
What part of the book did you find the funniest? Talk about how different people laugh at different things.generic viagra price canada
or
Not Currently Available for Direct Purchase